Long Term Wrap-Up: 2013 Toyota Sienna XLE AWD
We bought a new 2013 Toyota Sienna XLE AWD back on January 26, 2013. When I first took delivery that day, the van had just 32 miles on the odometer. My wife loves this van, and it's taken our children from ages 5 and 7 to ages 11 and 13. In addition to the long-term test introduction, I've written three long term test updates (first update here, second update here, and third update here), but the last one was May 10, 2016. We traded in the van in April 2019 on a new Chrysler Pacifica Hybrid, so this will be a celebration and of the old Sienna and recap of its six-plus years in the Haak garage.
Six Figures!
On the last update, the van had around 60,000 miles. We didn't quite snag a photo at 100,000 even, but this is pretty close. When we traded the van in, it had 111,000 miles. A 2013 Sienna is far from the most dynamic, exciting vehicle on the road. But as my wife and I have discussed what would come next, I've noticed that it is going to be a challenge to pry her from a van. You can't beat the utility of a van, particularly behind the second row. Third row seats are adult-sized and the cargo area with the third seat open is far superior to any crossover, or even full-size SUV.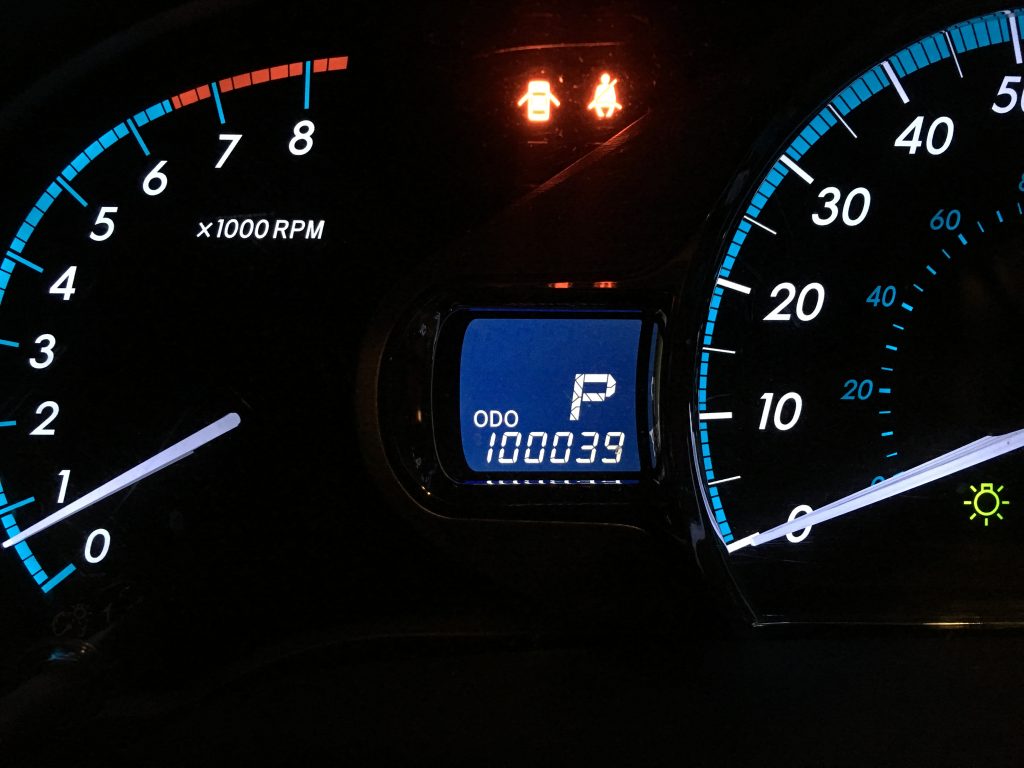 It's Cheap to Maintain a 2013 Toyota Sienna XLE AWD
Consumer Reports data shows that all wheel drive Siennas are less reliable than front wheel drive models, due to the extra weight and complexity that the all wheel drive hardware brings to the van. Fortunately, we never had a single mechanical problem with this van. That's right, in 110,000 miles, not a single thing ever broke. Maintenance expenses actually weren't too bad, either.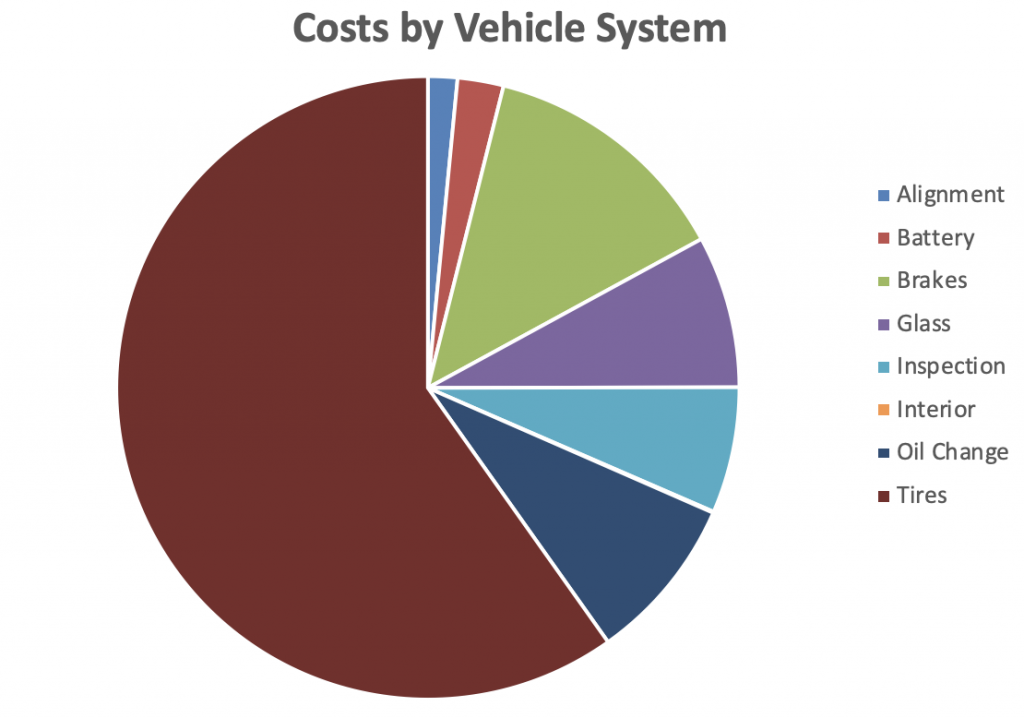 As you can see from the above graph, the cost of tires consumed the majority of the $6,247.80 spent on parts and service for the Sienna's 110,000 miles with us. The tire cost of $3,737.28 comprised 59.8% of the total. The tires were a major expense for several reasons:
Run-flat tires (the only option in the Sienna AWD) cost more than normal tires
Run-flat tires cannot be repaired when they get a nail – they must be replaced
The tread on run-flat tires does not last as long as normal tires
I'd say we had bad luck with tires on this van, but eventually you have to question whether it's luck, or just a bad design. We had similar issues with our previous Sienna's run-flat tires. They're just bad news on a vehicle as heavy as an all wheel drive minivan. In 110,000 miles, we replaced 14 tires – and only once did we buy all four at once, because one would inevitably fail.
We changed the oil every 10,000 miles, and usually had it done at the Toyota dealer. The $538.04 total spent on oil changes excludes about 12 quarts of Mobil1 synthetic oil that we purchased separately to defray the cost of synthetic oil changes. All scheduled maintenance (mainly oil changes and tire rotations) was free for the first 25,000 miles. After that, we paid an average cost of $67.26 per oil change. I bought jack stands and rotated the tires myself at the x5,000 mark (35,000, 45,000, etc.) halfway between oil changes to save about $25 each time.
The only truly expensive service visit was a $695.85 four wheel brake replacement at the 67,467 mile mark. We had it done at the Toyota dealer, and it included four rotors and all pads. I assumed we would never need another brake repair for the duration of our van ownership (expecting that we'd never own it for 135,000 miles), but I was wrong. Just two years and 37,414 miles later, at 104,881 miles, we asked the dealer to resurface the front rotors to address strong pulsing on the pedal from higher speeds. That solved the issue.
You'll see a significant expenditure for glass ($493.38). We got a stone chip while driving through Atlanta on one of the van's many road trips, when it was nearly new. I took it to Safelite for a repair, and the repair never looked good. Years later, we got a sec0nd stone chip and didn't have it repaired. When a third stone chip appeared, we had the windshield replaced – so that total reflects one repair and one replacement.
Aside from the expenses described above, we spent $95.39 on a four wheel alignment (to address uneven tire wear), $408.64 on annual Pennsylvania safety and emission inspections, $149.12 on one replacement battery (the original never failed, but the dealer advised that it was at the end of its life), and $3.78 for a replacement rubber for the parking brake pedal when the original annoyingly kept falling off.
Avoiding the Body Shop
Aside from nothing ever breaking in the van but tires, we were fortunate in another regard. Unlike its predecessor, which unfortunately saw the body shop three times, and was totaled by a tractor trailer (not our fault) in a fourth accident, the 2013 Toyota Sienna XLE AWD never spent a day in the body shop.
It somehow gained two small dents on the side from other drivers opening doors into us, an I once backed it into a pole supporting a basketball new in a friend's driveway that left a small crease in the bumper. While I was pumping gas once (which is on the driver's side), my son opened the sliding door into the gas filler cover, denting it and never letting it close properly again. Eventually the gas door didn't open without pulling on it manually, but a quick spot weld by the dealer upon trade-in corrected the issue.
The van was good, so why didn't we buy another?
Frankly, I was getting tired of driving Siennas – and they had barely changed since the 2011 model year. A new Toyota Sienna would look exactly like our old Sienna, for better or worse. We looked at a regular-length Ford Expedition and an Audi Q7 to replace it. We thought the Expedition was too big and unwieldy for someone used to driving a minivan, and the Q7's third row was comically small in the context of the third row we were used to. We also wanted something that improved on the Sienna's typical 18 mile per gallon fuel economy performance. We decided to order a Chrysler Pacifica Hybrid Limited, which of course sacrifices all wheel drive security, but gains the ability to drive 35 miles on battery alone, and get 30 miles per gallon after the battery is depleted. So far, we've driven the Pacifica about 16,000 miles in the past 11 months, and more than two thirds of those miles have been on battery power. The Pacifica also looks better, is more comfortable, and has superior safety features. Having rented a new Sienna LE last summer on vacation, I didn't miss the early 2010 technology of the Sienna. It was a fine van – but Toyota needs to step up its game and re-engineer this van for the 2020s as soon as possible.
Stay tuned for a long-term test introduction on the Pacifica Hybrid in the coming weeks! Meanwhile, goodbye, friend, we appreciate your service to our family!