I May Have Been the First to Put BF Goodrich KO2s on an Audi Q5
Why Would I Even Do This?
I have had this weird fascination with trucks that have big, all-terrain tires. I'm not talking about 35 inch mudders and a lift kit – just some tires that look like they wouldn't get stuck in two inches of snow (or mud) and have tough sidewalls. This goes back to my childhood (more on that in a moment) but also to a trip I took to Baja four years ago to try the new BF Goodrich KO2 all-terrain tires.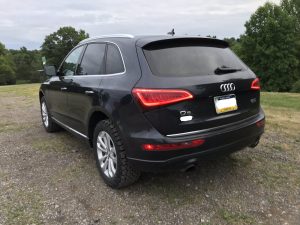 This interest isn't really compatible with my daily driver, a 2017 Audi Q5. You know, the conqueror of farmer's market and corporate office parking lots is a fine vehicle, but it's not exactly the most masculine vehicle. Now, I'm a guy who is comfortable in my own skin and don't really care that about 80 percent of fellow Q5s on the road seem to be driven by women. I also don't care that my Q5 is far from the sportiest car Audi sells – in fact, it might be the least sporty vehicle in Audi's lineup. I have a Sienna to fulfill my sport needs. (Just kidding, I use the S6 to get my fix).
Basically, I'm a Big Kid
Back to the big tire thing: this goes back to my childhood in the early 1980s. I remember being in second grade (1982-83 school year) and drawing Chevy pickups (The Fall Guy was a staple of the Haak family's TV watching diet) with oversized tires. I mean, every pickup I drew was 1) a Chevy, and 2) had huge tires.
The size of the tires sometimes varied. When I felt a little crazy, I'd draw them so large that they nearly touched each other. Sometimes I kept a similar tire-to-body ratio to what Colt Seaver had on his pickup.
I remember going on a camping trip with my grandparents one summer in the early 80s, and my parents were planning to join us a day or two later in their 1978 Suburban. The Suburban had BF Goodrich All-Terrain T/As. I loved the slightly up-sized look. But – dad told me they were wearing out and he would be replacing them with smaller on-road tires. As I waited for my parents to arrive at the campground, I was saying small prayers that maybe the old tires had one more trip in them. Nope. They were *passenger car tires* on my parents' Suburban.
Firsthand Baja Experience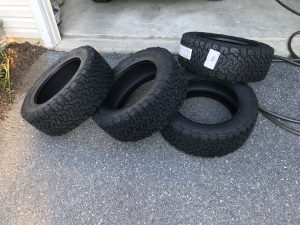 Fast forward to four years ago, and I was invited to conquer Baja with BF Goodrich as the company launched its new-generation all-terrain BF Goodrich KO2 tires. I loved the trip and fell in love with all-terrain tires again.
On my recommendation, two family members ended up putting KO2s on their trucks. But I didn't have any potential KO2 applications sitting in my garage – an Audi S6 and a Toyota Sienna AWD. The family members loved the tires, and I had nothing but memories of driving on them in Baja.
Then I got an Audi Q5 last fall. It had a set of 235/55-19 Goodyear Assurance all-seasons, and they did fine through the winter (and summer, and spring, and fall, for that matter). Meanwhile, the dedicated winter tires I was driving on my S6 (255/35-20s) seemed to attract potholes, which led to three bent rims one winter.
Inspiration, Then Research
One night, I had an inspiration. If I could get a set of KO2s for the Q5, my pothole problems would come to an immediate end. Plus, KO2s look pretty sweet. However, this required some research and testing. There were a few problems to overcome:
BF Goodrich makes zero sizes of KO2s for 19″ rim diameters
A Google search of KO2 on Audi Q5 leads to no results, except for an AudiWorld thread that I started on June 7, 2018 (username 69Firebird400). But the closest I could find was another AudiWorld user showing a couple of photos of his first-generation Q7 wearing KO2s.
I couldn't really fix the second one (no information on Google about someone else doing this), but could create my own content if it actually worked.
The Q5's standard wheels are 18″, with 19″ available. This meant that OEM 18″ wheels would fit around the suspension parts and brake calipers/rotors. I just had to find a cheap set. But first, I had to research whether any size of 18″ KO2s would have an outer diameter similar enough to the stock tires, and likewise whether those same KO2s would have a reasonable width to prevent any clearance issues.
Tire Rack Has the Answers
To begin my research, I leveraged the outstanding resources provided by Tire Rack's website. First, the OEM Goodyear Eagle LS-2s in 235/55-19 each weigh 29 pounds, can accommodate rims between 6.5″ and 8.5″ wide, have an overall diameter of 29.2″, and turn 716 revolutions per mile.
Skimming through the KO2 specs on Tire Rack's site, the 255/55-18s each weigh 44 lbs., can accommodate rims between 7″ and 9″ wide, have an overall diameter of 29″, and turn 717 revolutions per mile.
The wheels are 18×8, so the KO2s fell within the acceptable window. The small diameter difference of 0.1% would not affect my speedometer, and more importantly, the height of the wheels would still easily clear my Q5's fenders.
The last question to answer before buying wheels and tires for this crazy experiment was width, since I was going from a 235 section width to a 255. I took a gamble that the wider tires would fit because the same-vintage SQ5 has either 255/45-20s or 255/40-21s, meaning that wider tires should work.
Forum Deals are Great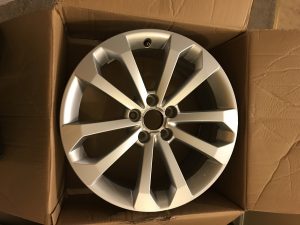 So, I put the calculator away and started looking for wheels. I found a set of perfect OEM Audi Q5 wheels in the 18×8 size about 2.5 hours from my office. He asked $400, which already was a pretty fair price, and negotiations were done over text. I countered with $300 (him $375). I countered with $350 (he held at $375). It was a deal so I accepted. He even provided boxes for them – which happened to be the boxes that the 19″ OEM wheels he wanted to put onto his Q5 came in.
The tire part was easy. I have only bought tires from Tire Rack for years, and wasn't about to change. In the past couple of years, I realized that I can save on shipping (and save time) by picking up my orders same day at the company's warehouse in New Castle, Delaware. Since Tire Rack offered free shipping on the tires, they gave a $64 price reduction for my local pickup. The total damage for the tires was $787.88. Added to the price I paid for the wheels, I had invested $1,162.88 before mounting and balancing.
Mounting and Testing
With the tires and wheels in hand, the hardest step remaining was to squeeze four wheels and four unmounted tires into a Q5. Somehow, I managed (and three months later, the interior still smells like new tires). I took them to the local tire and lube spot, a little while later, I had mounted and balanced KO2s on Q5 wheels.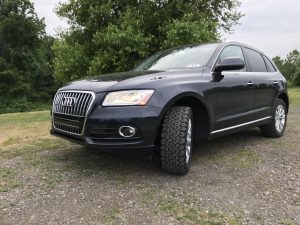 Being a man of little patience, I couldn't wait to try them out. I cleared the garage and pulled out my floor jack (and pinch weld adapter) and mounted the new tires and wheels. They were heavy as hell to lift, but I was successful.
With all four wheels on the car, I took it for a spin, but only for less than a mile round trip. The first thing I noticed was that the tires threw off quite a bit more road noise than I remembered from driving a first-generation Ford F-150 Raptor with the same tires in 2014. The second thing I noticed was that the tires seemed to be a little less lively than the stock tires. That's to be expected when they're 51% heavier (though the wheels are probably a bit lighter, being smaller in diameter).
The third thing I noticed was only after it was parked. It looked BAD ASS. It was exactly the look I was going for. I didn't want a Raptor wannabe (or worse); I wanted a bit tougher look that would never, ever require me to think about a pothole ever again when driving it.
Experiment Is a Success!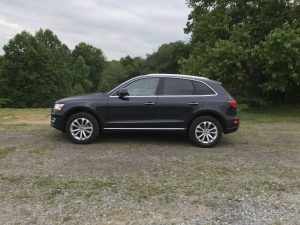 After taking a few pictures, I drove home. Before dismounting the new tires/wheels, I turned the steering wheel to full stop in both directions; there was no binding or clearance issue whatsoever. It actually worked!
With the experiment a success, I reinstalled the stock tires and wheels and rolled the KO2s to the shed. I'll put them on the Q5 either when the stock tires are too worn to be safely driven (I'm at just over 30,000 miles on the Goodyears today) or in November, when temperatures drop and I'd otherwise be putting the winter tires on my S6.
The only problem with the KO2s is that their deep tread and good tread life means they will probably last for 50,000 miles. If I don't like them or the way the Q5 drives with them, I will have to live with it for years, or will have wasted more than $1,200.
The best part is that my AudiWorld post may, just may, have inspired others to try something similar. Have fun out there!