Mazda is Bringing Back the Rotary Engine
Mazda Motor Corp. is bringing back the rotary engine by 2030! Mazda was the first automaker to market rotary engines in 1967 in the Cosmo Sport/Mazda S110. It also happened to be basically the only one to stick with the technology, despite challenges with fuel economy, oil consumption, and emissions. Mazda sold its last rotary-engined production car, the RX-8, in 2012, but has hinted over the past few years that we might see another rotary-engined Mazda in the future.
The future isn't now; it's still in the future. At least we have some more specifics, though. Mazda announced that there will be a small rotary engine employed as a range extender to power a hybrid vehicle. The company has met ever-stricter emissions requirements by wringing every last bit of efficiency from traditional internal-combustion engines, but that push will only take the company to a certain point. Electrification is necessary, and is happening.
EV with Rotary Range Extender Coming in 2030!
By 2030 when we see the return of the rotary engine, Mazda will have electrified its entire lineup. Electrification will take many forms, including pure EVs, hybrids, and EVs with range extenders. EVs are a decent fit in cities or in countries where there are not great distances between destinations. In North America, that is not the case, which necessitates either leaps in battery technology or range extenders.
Mazda feels that employing a rotary engine for range-extender duty in an EV fits the quirky engine's advantages very well. For one, rotaries are very, very compact – always a critical consideration in packaging something that may only rarely be used. They are also fairly quiet, and are power-dense. One rotary disadvantage is a lack of torque – but if it's only turning a generator, that's no longer an issue. Rotary engines are fairly thirsty, and Mazda has had trouble cleaning their emissions, but with occasional use, a tiny engine, and light duty applications should be fine. What's more, the range-extending rotary engine will run on cleaner LPG, not just gasoline.
Mazda Hinted at EVs with Rotary Range Extenders Back in 2013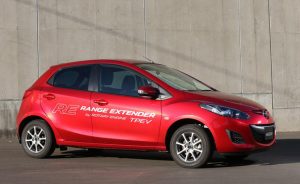 The company previewed this thinking with a 2013 Mazda2 hatchback with an electric motor and a small 0.33-liter range extender. They called the car the RE Range Extender, which stands for Rotary Engine Range Extender. I suppose they didn't like the name RERE. Car and Driver summarized this special Mazda2 in December 2013:
Mazda is conducting an engineering study with a prototype model it calls the 2 RE Range Extender. It's based on the brand's Japanese-market limited-lease 2 EV, but has a 38-hp, 333-cc rotary engine—and a 2.6-gallon fuel tank—mounted beneath the trunk, which spins a generator via a belt. This provides electricity for the lithium-ion battery housed beneath the floor, which supplies juice for the 101-hp electric motor powering the front wheels. Mazda says that upgrading its EV with the range-extending equipment should up range from 120 miles to more than 200.

Mazda says that it opted to use a rotary in this application because of the engine's quietness, lack of vibration, and compact size. Of course, there's also the nostalgic "Historical Mazda brand equity" of the rotary.
I, for one, am happy to see Mazda returning to its roots, while retaining as much independent engineering as possible. The company is also in a partnership with Toyota Motor Corp. and Denso Corp. in an EV joint venture called EV Common Architecture Spirit Co. The venture will cooperate to develop architecture and components to use in various segments, from minicars to light trucks. Mazda will sell a mild hybrid in 2019, an EV in 2020, and a plug-in hybrid in 2021. Products resulting from the JV will appear sometime after 2020.