Goodbye, NAFTA. Hello NAFTA 2.0 (USMCA)
There's a new version of NAFTA on the way. It's not exaggeration to say that the 1994 North American Free Trade Agreement, significantly and irreversibly altered the manufacturing and supply chain landscape. I'm not just talking about in North America, either, but in the world. NAFTA covers $1.2 trillion in trade annually.
U.S. companies often moved production facilities to Mexico, where labor was cheaper and environmental regulations were less robust. Union organizing activities and worker protections were less prevalent, or even discouraged. As the U.S. economy evolved from a manufacturing-based economy to a services-based economy, manufacturing capabilities departed the U.S. for Mexico and other countries like China.
President Trump, plus many other business and labor constituencies, has been concerned about the flight of industrial jobs from the U.S. This is particularly true in the midwest/"Rust Belt," and pledged to exit or renegotiate NAFTA.
Well, NAFTA is no more – at least the original version is no more, and the new version requires congressional ratification. The preliminary agreement came as Canada agreed to terms just hours ahead of a U.S.-imposed deadline of September 30, 2018. Earlier this year, Mexico and the U.S. had reached a preliminary agreement. However, there were some sticking points that kept Canada from joining that agreement until now.
What's in the Agreement?
First, there's a new name. The "NAFTA" name has become a political punching bag for both Democrats and Republicans. President Trump has taken to calling it the USMCA, which stands for United States Mexico Canada Agreement. Funny enough, in the actual text of the document, there are references throughout to NAFTA 2018. I guess find/replace wasn't working on the version of Microsoft Word used to edit the document.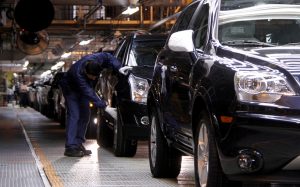 Second, automotive content rules are a big piece of the new agreement. The goal is to make it harder for global automakers to build cars in Mexico, then ship them tariff-free into the U.S. Canada and Mexico each agreed to an annual quota of 2.6 million passenger vehicles exported to the United States in the event that President Trump imposes 25% global tariffs on autos on national security grounds. Currently Mexico exports about 1.8 million units, and Canada exports about 2 million vehicles. Also, a larger percentage of content in a vehicle must be made in North America by workers earning $16 per hour. That rule is aims to discourage a further shift of jobs to Mexico. It may well do that, or could also encourage wage gains among Mexico's working class in auto factories.
The agreement also requires Mexico to improve the rights of organized labor. American unions have complained for years that NAFTA encouraged job migration away from the United States (in largely unionized jobs). Simultaneously, these jobs moved to low-cost Mexican factories (where the organized labor movement was discouraged, or even prohibited).
How Does This Impact the Auto Industry?
In short, the industry breathed a sigh of relief that NAFTA was not completely blown up. For example, AAPC (American Automotive Policy Council) issued a press release congratulating the deal's negotiators on the revised trilateral agreement. The AAPC is a lobbying group that represents FCA US LLC, Ford Motor Company and General Motors Company.
The revised agreement should preserve more manufacturing jobs in the U.S. and Canada while offering some business isolation/protection to domestic automakers. However, it seems as if it will serve to discourage some foreign investment in global supply chains that land in North America.