Long Term Test: 2013 Toyota Sienna XLE AWD Update 3
It's been a long time since I shared an update on our 2013 Toyota Sienna XLE AWD. A lot has happened. The good: the van is extremely reliable and has great utility as it continues to serve our family. The bad: the run-flat tires are still an issue. But more on those in a few minutes. We're now at 55,300 miles with the second Sienna in the Haak family. Let's talk about what this van has been up to since the last update we provided in December 2013, more than two years ago.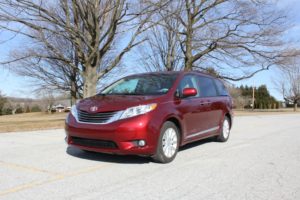 At that time, the mileage was approximately 15,530, and the van was still under the ToyotaCare no-cost maintenance program for its first two years or 25,000 miles. As we've discussed before, that covers two oil changes in a new Sienna. This is because the Sienna comes with synthetic oil that only has to be changed every 10,000 miles – so the first free oil change is at 10,000 miles and the second is at 20,000 miles. The 5,000-, 15,000-, and 25,000-mile service appointments are solely vehicle inspections and tire rotations so are nearly worthless (my dealer charges $24.99 plus tax for a tire rotation).
Now that our family hauler is middle-aged, service is no longer free. At the 30,000 mile oil change (the first one we paid for), we didn't bring our own synthetic oil and the service advisor was almost incredulous that we did not. Apparently they mark theirs up quite a bit – the bill was $100.17 for an oil change and tire rotation.
For the 40,000- and 50,000-mile oil changes, I bought five-quart bottles of synthetic oil at AutoZone and asked the dealer to use that. Why we continued to go to the dealer for this, I have no idea – convenience, I suppose. They have a decent waiting room for my wife to avail herself of, though the lack of decaf coffee is a consistent problem.
The van is still on its original brakes (I can feel a bit of pulsing sometimes, so the rotors may need to be cut or replaced), but it just passed PA state inspection a few months ago with no commentary on the pad life, so we must still be good. We add the miles at a clip of about 20,000 per year, so by the time the 0% loan is paid off, it should have about 100,000 miles.
Issues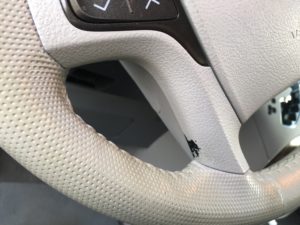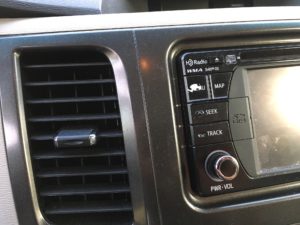 There have been no mechanical issues with the van. The engine is strong and the transmission shifts well. The same things that drove me crazy when the van was new – cheap plastic interior parts, a small, glare-prone navigation screen (which we almost never use anymore thanks to Waze) – but it continues to offer excellent utility and comfort to our family.
New issues that have cropped up in the past few years include paint flaking off the steering wheel, the menu button text wearing away on the radio controls, and a persistent rattle from the rear. For a while, I assumed that it might be one of the third-row folding seats rattling. Then I noticed one day that the jack was loose inside its cubby, so assumed that was the cause. Unfortunately, I now have a secure jack and a rattle. Siennas don't exactly have a rattle-free reputation as they age, so this is not surprising to me.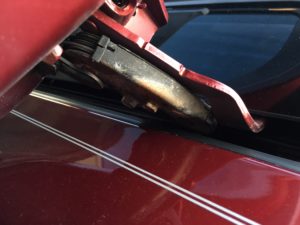 More disturbing than minor cosmetic issues and rattles is corrosion that I'm starting to notice at hidden places. We live in Pennsylvania, in the rust belt, and our highway crews use salt to melt ice and snow, and that wreaks havoc with vehicles. What we've noticed is that the swing arms on the rear of each of the sliding doors are showing premature rust. As you can see from the photo, the red-painted portion has no rust, but the black part is covered in surface rust. Did salty water get trapped there some winter and corrode the metal? Quite possibly. The power slidig door continues to function just fine, but I'm concerned about the long-term integrity of the sliding doors. There's also a rusty bolt in the middle of the rear side of both doors that should be replaced. Next time we get it to the dealer, we'll ask about that as well.
Upgrades
We made one major upgrade to the van – we had a Class 3 trailer hitch installed (here's the one we bought). We paid $133.95 on Amazon for it, and a family friend installed it. We don't necessarily plan on towing anything with the Sienna (no trailer brake or trailer light wiring), but the hitch gives us the flexibility of installing a hitch-mounted bike rack. We didn't get a bike rack yet because the well-reviewed ones are super-expensive and the affordable ones have mixed reviews. Plus, unless we're going on vacation and have the van packed with luggage, we can haul all four of our bikes inside the van. Try that in a crossover!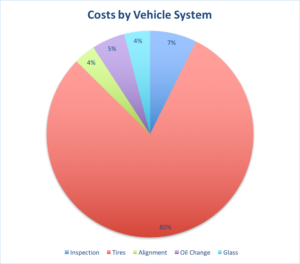 Tires
Now, to complain again about the tires. I tallied up all of the service costs for the van since we bought it more than three years ago, in January 2013, and they were $2,805.48. That's not too bad – but a staggering 80% of that – $2,242.46 – is for buying replacement tires and paying for those tires to be mounted and balanced. I didn't even count rotations in that total, and as of tonight, I'm officially doing those by myself in the garage to save $24.99 plus tax.
The latest tire issue was that for basically all of 2015, the OEM Bridgestone Turanza RFTs were making quite a bit of noise as the layers were separating. My wife claimed she didn't hear anything, but it drove me crazy. It was especially bad around 45 mph, but most of the time when I was driving the van, it was for family trips at highway speeds (65-75 mph), so the tires were quieter at those speeds. My plan was to get through the winter with the old tires, then replace them in the spring.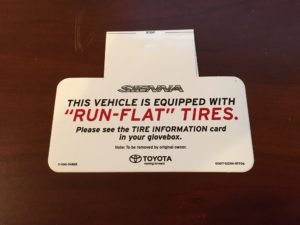 Unfortunately, in January 2016, when the van had about 50,500 miles, one of the rear tires failed inspection. I didn't want to replace just one tire, so I got all four from TireRack. TireRack didn't have the OEM Turanzas in stock for fast delivery, so I switched to the only other choice, the Bridgestone Dueler RFT. In comparing both the specs and tread pattern between the Turanza and Dueler RFTs, there appeared to be very little difference. The Duelers are classified as light-truck tires while the Turanzas are not, but they look the same on the Sienna and we noticed no difference at all in traction or wear. The Duelers were also a few bucks cheaper than the Turanzas. It was a huge relief to ditch the noisy tires as well! I find it completely ridiculous that 1) a 55,000-mile minivan is on its THIRD full set of tires already, and 2) that the tires cost as much as they do. The Sienna's tires are actually more expensive than the 255/35-20 summer tires that my 2013 Audi S6 rolls on ($211.20 for the Duelers vs. $145.45 for the BF Goodrich Comp T/As I put on my Audi).
Though I've not yet driven a newer Sienna, Toyota has added some enhancements to its people-mover. The 2015 Sienna got a new dash and door panels that eschew the hard plastic of our van. For 2017, the Sienna gets a new engine with direct injection and a new eight-speed transmission to replace the six-speed. Both performance and economy should improve, though Toyota has not yet published economy or power output for the new drivetrain combo. (The new engine and transmission will also be shared with the Sienna's cousin, the Highlander).
My wife loves her van. She'd buy another one when this one's worn out, but I have a feeling it will be a long time before it's completely spent. The thing just runs like a top without complaint. Fuel economy is still the same as before – approximately 21 mpg on highway trips, and about 17 mpg around town – but what do you expect for a 5,000-pound family hauler than can hold the people AND their things in comfort?