Long Term Test: 2013 Toyota Sienna XLE AWD Update 1
We have passed the six month milestone in my family's ownership of the 2013 Toyota Sienna XLE AWD, so it's time for a long-term test update.  My wife is the van's primary driver, and she drives it quite a bit.  Her typical trips are around-town errands to take the kids to school, go to the grocery store, bank, pharmacy, or park – you get the idea.  She loves it, and now that we have put nearly 10,000 miles on it, she has become much more accustomed to driving it.  Overall, we're still happy with the purchase, and some of the original complaints that we had with the van have melted away with more familiarity.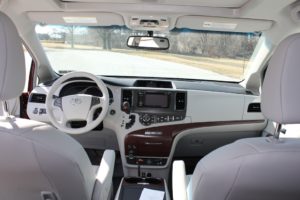 Maintenance
All new Toyotas include a standard two year/24,000 mile (whichever comes first) no-cost scheduled maintenance.  I know this may sound a little shocking coming from a car guy, but I'm not always one to follow the maintenance schedule to the letter.  Why?  I have a strong suspicion that maintenance schedules are partly to improve the vehicle's longevity (which is good for you and good for the manufacturer, at least while it's in its new-car warranty period) but also intended to pad dealership profits.  Thirty thousand mile service?  I only fell for that gag once, with my 2004 Honda Accord.  You'll note that Toyota's free maintenance deal conveniently ends 6,000 miles before the big replace-the-cabin-air-filter (and more) service.
That being said, it certainly was nice to take the van to the local dealer (which, as you may recall from our introductory piece, was not the one where we bought the van) and have them do the 5,000 mile/6 month service free of charge.  That being said, our old 2008 Sienna required oil changes every 5,000 miles when the MAINT REQ'D light remained on.  The 2013 Sienna requires synthetic oil, which costs a lot more, but lasts much longer than conventional oil.  What this means is that Toyota will only be paying for two lousy oil changes – one at 10,000 miles and one at 20,000 miles, then you're on your own for $70 oil changes.  Things the complementary 5,000 mile service did cover were fluid top-off, tire rotation, multi-point inspection (?), and visual brake inspection.  Apparently this cost ToyotaCare $26.70 in labor, but again, it was free to us.
We have had zero warranty issues with the new van so far.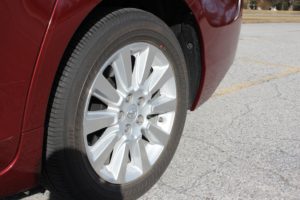 Driving
My first impressions of the van were that it handled a bit better than its predecessor did, thanks to a slightly wider stance and lower-profile tires (18 inches vs. 17 inches).  That still basically holds true.  New Siennas like this one are equipped with electric, rather than hydraulic, power steering.  We all know that EPAS saves some fuel since there's no parasitic power loss from a power steering pump, but I'm happy to report that the steering feel is not quite as abysmal as our 2008 Sienna Limited AWD's was.
All 2011 and newer Siennas have a six-speed automatic transmission, while the previous generation had only five forward gears.  Coupled with the newer vans' superior aerodynamics – it's really a quite slippery shape considering its size (0.31 cd) – and a wider ratio spread, the new van easily trumps the old one in fuel economy (more on that in a moment).  But the extra ratio (which puts all of the gears closer together) means more frequent shifting.  This doesn't bother me at all, but I find it interesting that the new van has the same engine note as the old one (considering the engines are all but identical, that makes sense) but it sounds different nonetheless at different speeds because the new van shifts into each gear at a lower speed than the old one did.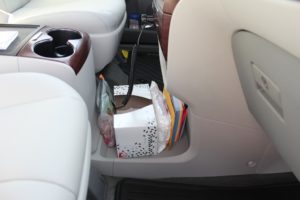 Utility
I've said it before, and I'll keep saying it.  You CANNOT beat the utility of a minivan.  From the dual power sliding doors to the power liftgate, to the cavernous interior, to incredible amounts of interior storage, a minivan arguably gives more utility than any similarly-sized competitors.  Midsize or even full size crossovers or SUVs?  Forget about it.  A Sienna has more interior space than even a Suburban, not to mention it's more efficient and easier to drive (and to get into and out of).  Storage abounds throughout the cabin.  On several occasions during the past few months, we have fit two kid bikes (18″ and 20″ wheels) and two adult mountain bikes into the van's cargo area by just folding the third row seats into the floor well.  The bikes are easier to fit into the van if one of the adult bikes' wheels is removed, but it is possible to fit them all into the van with their wheels still installed.  Plus, there's plenty of room for four helmets and other random accessories that accompany a day of biking in the park.
Fuel Economy
As alluded to above, fuel economy is not great, but it is much better than the similarly-equipped 2008 Sienna's was.  The old Sienna would struggle to get into the 20s on a highway trip at 75 miles per hour and would typically show around 16.5 MPG in the normal course of around-town errands.  This 2013 Sienna does suffer the mileage penalty of all wheel drive (2 MPG) vs. the standard FWD version, but we have found it easier to get closer to the published EPA ratings in the new van vs. the old one.  The EPA rates this van at 16 city/23 highway/19 combined; around town we see typically 17.5 (1 MPG better than the old van) and on the highway we see about 21-22 (2 MPG better than the old van).  Because the Sienna doesn't have the fancy fuel-economy tracking features of newer Fords found in Autosavan't other long-term test vehicles (Flex EcoBoost and F-150 EcoBoost) we can't give a lifetime average, but it does do a bit better at the pump than its ancestor did.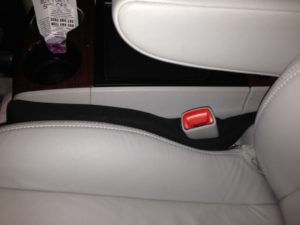 Accessories
We're not really big into accessories for the van.  On longer trips, I'll install the RAM Mount cell phone holder to hold my iPhone for using Waze (even though the van has a built-in system) as well as the Passport 8500 X50 Radar/Laser Detector).  We installed a Drop Stop between the driver's seat and console (and my wife wishes we had one on the other side, between the passenger seat and the console), but other than that, we have kept it completely stock.  And it will likely stay that way.  The only thing I'm thinking of potentially adding someday is a trailer hitch – not for towing, but to hold a large bike rack.  The problem is that non-factory trailer hitches on minivans look so awful, I don't think I will be able to bring myself to doing it to this van.  It's kind of overkill, too.
Critiques
It's not all roses.  The reliability has been excellent and improved fuel economy is a welcome benefit (though it's still pretty poor), but I continue to dislike the second-tier audio system and navigation system that Toyota installs on XLEs.  Limiteds get a similarly-functioning, but larger and nicer unit.  The XLE's screen is easily washed out by dark polarized sunglasses (though trading in my super dark iridium-coated Oakleys for a pair of Ray-Bans have improved it slightly) and the half-assed integration between the audio system and factory DVD entertainment system continues to frustrate.  For example, the old Sienna allowed front-seat occupants to view the movie on the navigation screen if the vehicle was stopped with the parking brake applied; that is not possible with this system.  It may sound like a small thing, but there are no front on-screen controls that would allow us to choose the right episode on a kid's DVD.  (Fortunately for us, our children are getting older and can usually get what they need if we hand the Toyota-provided infrared remote control).  We never use Toyota's Entune; if we want to listen to Pandora, it's easier to just use Bluetooth streaming audio rather than waiting for the app to load on the van's display.
There was one thing that I complained about in the introduction to this long term test that turned out to not be an issue after all – I said at the time that there was only a single 12V power outlet in the 2013 van, but there is actually a second one at the very bottom of the center stack, near the floor and next to the USB port.  There is just enough length in my 30 inch Apple USB to Lightning cord to reach from the USB port at the bottom of the center stack to my iPhone when it's mounted on the windshield.
The seats have been reasonably comfortable for long trips (we recently finished a nearly 1,000-mile trip to Niagara Falls, Ontario and back), and the very light gray leather/leatherette on the seats has seemed to resist stains better than I expected.  However, the steering wheel will need a scrubbing soon, because it's not completely light gray anymore.
Overall, we're pleased with the van, and only wish we didn't have 4 1/2 more years of payments remaining.  We're very happy with the purchase and it's a very comfortable family hauler – which is exactly what we expected, having come from five years in a 2008 Sienna.