NY Auto Show: 2015 Toyota Camry
Having a track record of success can lead to complacency. Success is not easy and is not typically sustainable without considerable effort. In Toyota's case, having the Camry as the best-selling car (note: full-size trucks kill it in sales) for the past dozen years allowed it to take its eye off the ball for the past few. The new-for-2012 Camry attempted to add a nicer interior, more style, and better performance, but competitors are constantly upping their game, and the 2012 Camry was not setting the class benchmark.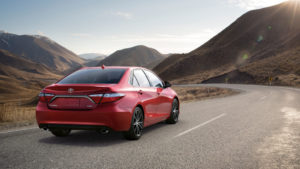 It remains to be seen whether the new 2015 Camry does until we have had a chance to drive it for ourselves, but it appears that Toyota checked off all the necessary boxes. The refresh – which is not an all-new car in the technical sense, since it shares a chassis and hard points with the old car – is substantial, and comes after just three model years of the current model. The doors, hood, trunk, fenders, and bumpers are all-new. Even the track has been widened by 0.4 inches. The interior was gutted and completely re-done.
The result should speak for itself. At the press conference this morning in New York, Toyota spoke of improving handling, braking, and comfort. The design is certainly more dynamic (though I'm not a fan of the faux-window extension fore of the C-pillar to make the greenhouse look more sleek). Headlights and taillights are more swept back and less angular than before (and LED low and high beams are optional).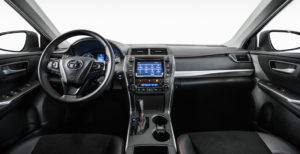 Inside, the revised center console includes more storage than before. There is a full-color information display between the speedometer and tachometer, and the color LCD infotainment display on the center stack can be up to 7″ diagonally in higher-end models. It also features a new version of Toyota's Entune, and hopefully one that is more responsive than the current iteration. French stitching abounds in higher-end models, as does nickel satin metal on the dash and door handles.
Toyota was surprised by the success of the Camry SE in the current generation since that car made up about 45 percent of the model's sales mix. To further build on that, the SE is now available with Hybrid Synergy Drive (which, I believe, will manage to dull acceleration and braking response while offering improved dynamics and looks otherwise), and also rolling out an XSE model that slots above the SE, adding additional features to the SE's appearance and handling enhancements.
The 2015 Toyota Camry will hit dealers this fall, doing battle with the revised 2015 Hyundai Sonata, along with the Honda Accord, Ford Fusion, and Nissan Altima.