GM Tries To Take Cadillac Global. Again.
Every few years, we hear about how Cadillac's management team is appalled about the way their brand is barely selling any cars outside of the U.S., and how they really want to make inroads into the Chinese and European markets, not to mention developing markets.  Then, almost like clockwork, about two or three years later, GM cuts its losses, retrenches, and Cadillac continues to be primarily a U.S.-f0cused brand.  Today, Cadillac announced that it's going to try again.
Cadillac's chief, Bob Ferguson, announced a reshuffling of his management team today that brings Steve Majoros on board as global director of Cadillac marketing.  Majoros had previously been with advertising agency Campbell-Ewald.  The appointment of Majoros into a role that for the first time will have global responsibilities signals that Cadillac is again attempting to break out of its North America-centric orientation.
Let's look at a few reasons why Cadillac has not succeeded outside the U.S. in recent years.
Wrong Product Mix
While BMW and Mercedes-Benz offer a wide variety of models in their home market with a full lineup of powertrains, ranging from fuel-sipping diesels to fire-breathing twin turbo V12s, the bulk of their sales in Europe are smaller cars, like the 1 Series and 3 Series BMWs and the A-Class and C-Class Mercedes-Benzes.  Nearly all of these cars are equipped with small four cylinders or diesels.  What does Cadillac offer in Europe today?  Fat, American-style vehicles.  The Escalade.  The SRX (which is small in the U.S., but still large for Europe).  The CTS.  And finally the ATS.  None of those cars but the ATS are even available with a four cylinder, and none can be equipped with a diesel.  In a land where diesels command over 50 percent of the market, that's an inexcusable oversight.  To be brief:  Cadillac's current product mix is skewed too far toward large cars, and its engine lineup is too skewed toward large-displacement engines that are not particularly fuel efficient.
BLS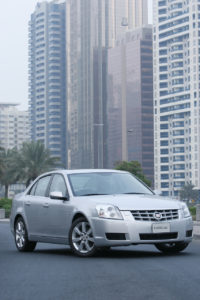 Though it's related to the point above, the BLS gets its own section.  In 2006, Cadillac launched the BLS, its first small sedan in years.  Based on the Saab 9-3 (perhaps "based on" is being too kind; it shared the Saab's chassis, powertrain, and even greenhouse, with the exception of some visual trickery around the window trim to sharpen their edges to make the car look more Cadillac-like), the front wheel drive BLS lacked the driving dynamics of its rear wheel drive-based competition from BMW and Mercedes-Benz, lacked the visual appeal and prestige of those two brands as well as Audi, and was coming from a brand that few Europeans had ever heard from.  What's more, Cadillac did not have standalone showrooms in Europe at the time, so the BLS and a handful of other Cadillac models were sold in a corner of Opel showrooms.
The BLS was a complete disaster.  Cadillac sold only a few thousand of the cars during its 2006-2010 production run, including just 282 sales in Germany in 2007 (in a vehicle market of over 3 million vehicles, or 0.0089 percent of the 2007 German new-car market.  It also damaged whatever brand credibility Cadillac may have had in Europe, and most likely, the only buyers willing to pony up for a BLS were people who wanted a Saab but were drawn to the Saabillac's large discounts.
Distribution
GM has about 40 Cadillac dealers in all of Europe.  It has nearly 1,000 Cadillac dealers in the U.S.  It's not hard to see then, forgetting about the poor product mix and unhealthy brand (not to mention a very sick economy in Europe) that Cadillac can't really sell cars in the Old World.  But sales really are abysmal there for Cadillac.  In 2011, Cadillac sold barely 500 cars in Europe; in 2010, Cadillac sold almost 1,000 vehicles.  (We couldn't get our hands on 2012 sales results; the company currently offers the various CTS variants, the ATS 2.0T, the SRS, and the Escalade/Escalade Hybrid).
In late 2009, GM contracted with Netherlands-based IFS Europe to act as its distributor for Cadillac and Corvette vehicles in Europe.  IFS handles both the distribution and the homologation documentation of North America-built models to European standards (the actual work appears to be done by GM at the plant).  IFS has documents on its website that certify GM vehicle compliance with various European vehicle regulations.  But, by outsourcing the distribution of Cadillacs, it appears that GM was basically conceding that European Cadillac sales will be a rounding error in Cadillac's global sales (and from 2009 through 2011, that did prove to be true).
So what's next?
With Cadillac's former marketing director, Don Butler, has been assigned to the newly-created role of vice president of global strategic development for Cadillac.  He will be responsible for driving "the next phase of Cadillac growth internationally" and establishing the brand in overseas markets.  Except that his job will apparently not include marketing, which will be handled by the new guy, Majoros.  Majoros is responsible for coordinating Cadillac's marketing, sales, advertising and field teams globally.  The emphasis on global signals that Cadillac is going to try again to establish a foothold in Europe, where it doesn't even have a toehold at this point.
With Cadillac's renewed interest in expanding sales outside of its home market, its management team will have to expand distribution and get the product mix right.  A broader product lineup – more models beyond the handful available today – as well as a broader engine lineup (with smaller, more efficient engine choices) are critical.  It's great that the same person will be heading marketing for Cadillac globally, but it's also important that the marketing and sales practices be catered specifically to individual market demands.  Pricing has to be competitive, too – Cadillac has almost no reputation as a premium brand in Europe, so GM can't expect to charge as much as their competitors at this stage in the game, unless they want sales to remain in double digits monthly, and they certainly can't be more expensive than established European rivals.
The brand had about 50,000 sales outside the U.S. last year, though 25,000 of those were in China, meaning that every other country in the world combined (aside from the U.S. and China) sold just 25,000 Cadillacs in aggregate.  Cadillacs are sold in 39 countries around the world.  This means that there should be plenty of opportunity for GM's second global brand – the other being Chevrolet – to grow in the coming years.  But resorting to the tactics of the past will most likely give similar poor results, no matter who's in the driver's seat at Cadillac.
This will be a slowly-incubating renaissance, if there is to even be a renaissance in Europe.  Infiniti and Lexus – two brands who have been better-managed historically than Cadillac – are also having a heck of a time getting off the ground in Europe because loyalties are what they are and there's not necessarily a compelling reason to change brands to an unknown.  It's up to the folks building and marketing Cadillacs to convince buyers in Europe and the rest of the world to give them a reason to believe that they should buy a Cadillac rather than an Audi.