NY Auto Show: 2015 Ford Mustang 50th Anniversary Limited Edition
It wouldn't be a proper auto show without a new limited-edition Mustang making its debut. With an all-new Mustang about to hit the streets, Ford is eager to begin making special editions with its new blank canvas. On the occasion of the iconic car's 50th anniversary this week, New York was the perfect place to reveal the 2015 Ford Mustang 50th Anniversary Limited Edition. It remains to be seen whether there will eventually be a GT500, Super Snake, KR, Bullitt, Mach 1, Boss 302, or even Warriors in Pink Breast Cancer Awareness model, but we'll start with the 50th anniversary car.
Rolled out today by Executive Chairman (and Ford family scion) Bill Ford, the 50th anniversary edition pays homage to the Ur-Mustang first with its Wimbledon White exterior (the only other paint choice for this edition is Kona Blue) and various retro touches not found in other 2015 Mustangs. Ford will produce 1,964 anniversary Mustangs in homage to the car's debut year, and all will be based on the GT with the Performance Package.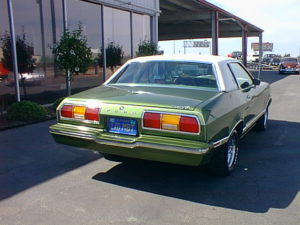 Bill Ford noted during the press conference that his very first car was a Mustang – a 1975 painted in "show car electric green." Despite starting his driving career with what is widely acknowledged as one of the worst Mustang models ever built, Mr. Ford remained a fan of the car throughout its life and his own, calling the Mustang his favorite car of all time.
This special Mustang gets chrome highlights around the grille (including an corralled pony that hearkens back to the original), around the window openings, and on the tail lamps. There is special aluminum trim on the dash of the 50th anniversary model as well as an anniversary plaque "signed" by Bill Ford and numbered in sequence (0001/1964, for instance). The decklid emblem notes that the car is a 50th Anniversary model. The final design touch is louvered rear-quarter windows; unlike the original 1965 fastback, the anniversary model uses special glass constructed of special layers to give the effect.