Review: 2013 Volkswagen Passat SE TDI 6MT
I just finished writing a review of the Dodge Journey.  As I did so, I was appalled by what Daimler did to Chrysler, and how that affected the products created by pre-Fiat, pre-Cerberus Chrysler.  I was again reminded of, as an American, how offensive I found Volkswagen's most recent move downmarket to larger, de-contented vehicles that were intended to be more appealing to American tastes.  Is this how German automakers view Americans?  Easily tricked by spec sheets and a "bigger is better" mentality?  Time to see if a bigger 2013 Passat SE TDI 6MT indeed means that it's better.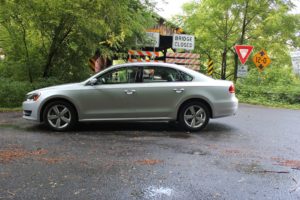 Though VW's sales certainly were helped by the move in the short term, it kind of bothered me that Volkswagen presumably saw Americans that way.  And one of the two models in Volkswagen of America's current lineup that espouse this new strategy for the company is the current Passat, which is (on the surface) paradoxically cheaper, yet larger, than the car that it replaced (and which sold terribly here).
My gig with as a writer has given me the opportunity to drive several variants of the Passat, and I was even chauffeured in Passats before (when attending a Volkswagen media event last year for the launch of the VW Beetle Convertible).  Things that I consistently love about the Passat are rear-seat space (VW really got that right in the Passat – as much as Chevrolet got it wrong in the Malibu), its clean, timeless interior and exterior design, its large trunk, and availability of both diesel and manual transmissions in the lineup.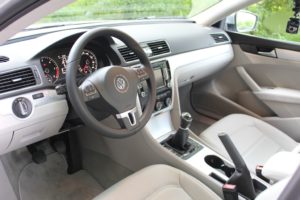 There are plenty of things I don't like, mind you – the cost cutting goes a little overboard (the upper dash and upper door panels are soft to the touch – basically everything that is dark gray in the photo is softer, and everything in light gray is still hard plastic).  The seats are imitation leather – called V-Tex – that feels like what it is, and that's textured vinyl.  Some might call it "leatherette" but the only cows who gave their lives for these seats were made of petrochemicals.  You actually have to insert the key into an ignition switch to start the car!  No pushbutton start here.  I also really hate the fact that VW doesn't offer its excellent 2.0T turbocharged four cylinder in the Passat.  It's available in nearly every car that VW sells here with the exception of the Passat, and it was even the volume engine in the old Passat.  So what gives?  (The 2014 Passat adds a 1.8T turbocharged four cylinder as the 2.5 liter inline-five is phased out.  The 1.8T will be available with both 5 speed manual or 6 speed DSG dual clutch gearbox; that engine is rated at 24/35/28 city/highway/combined with the manual transmission).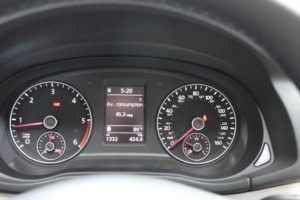 But turn that key, the 2.0 liter diesel engine settles into its purring idle, and look to your right as you grab onto the car's manual shifter.  Wait, a diesel and a manual in the same car?  It's true – and the TDI/6MT combination just happens to be the most efficient powertrain option available in the current Passat, with an EPA highway rating of 43 miles per gallon (31 MPG city, 35 MPG combined).  Opt for the 6-speed DSG and ratings drop to 30/40/34 city/highway/combined.
Well, over more than 500 miles behind the wheel of this Passat, I enjoyed fuel economy that occasionally topped 50 miles per gallon on my 36-mile commute (I have a long hill at the end of the trip, just before my house, so I never crossed that magic five-oh mark for the day as I pulled into my driveway, but I did have two days over 49 MPG as I turned off the car).  Over a week with the car, I averaged 45.3 miles per gallon.  Though I admittedly did try to behave more with this car than I usually would, it's quite easy to beat the EPA numbers in the Passat.  I redlined it more than a few times.  I often set the cruise control to 75 MPH on highway jaunts.  I had to stop at red lights and stop signs.  Yet still, the Passat excelled from a mileage standpoint.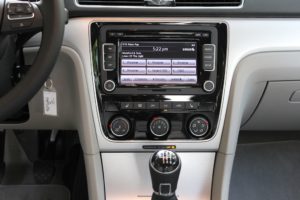 How did I do it?  It really was pretty simple:  for two of my five commutes, I set the cruise control for exactly the speed limit rather than my standard 10 over.  I often upshifted earlier than I would ordinarily do, occasionally lugging the engine and causing the car to call for a downshift (there's a helpful gear indicator in the instrument cluster that shows the numeric gear you've engaged as well as an up or down arrow to tell you where to go, since the car can't physically do it for you in a three-pedal model.)  I anticipated stops and accelerated a bit more gently than normal.  That's it.  No hypermiling.  No shutting off the engine at red lights.  No driving below the limit on the shoulder with my blinkers on.  (And yes, I have seen hypermilers do that).  Plus, I kept the air conditioning turned on the entire trip.  Some hypermiler I turned out to be, right?
When I think about how little fuel I used in this car (which, by the way, has a published 583-mile range, but at the 45.3 MPG pace I kept, its 18.5 gallon tank would have taken me a staggering 838 miles between fill-ups), I think about what a marvelous long-distance cruiser the Passat TDI would be for someone with a long highway commute.  I'd go from filling up every 4 days to every 2 1/2 weeks.  Now, it doesn't do as well in city driving as a hybrid would, but when I got about 35 MPG overall in a Chevy Volt driving to Boston and back (because I had no place to charge it), I could have saved some serious fuel by using this car instead.  Plus, the Passat costs much less and has much more passenger room, including a rear-center seat that the Volt doesn't even offer.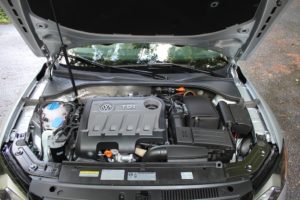 The Passat came to me at a good time in my life, because I started a new job four months ago that has a long drive (72 miles roundtrip each day) and I've been burning a bit too much fuel in my 2008 Cadillac CTS 3.6 liter daily driver.  Plus, I need something that's at least front wheel drive or preferably all wheel drive so that I can actually get to work in inclement weather.
Unfortunately, the Passat is no longer available with VW's 4Motion all wheel drive as its predecessor was (cost cutting, ya know).  I'm also not sold on the Passat's interior accommodations; VW gives Americans a smaller, cheaper navigation system than European buyers get, and it's a few generations behind the best competitors such as (ahem) Chrysler.  Plus, I don't want to spend the next five years sitting on V-Tex, either.  It has to be from a dead animal or my ass isn't sitting on it.  If I wanted to step up to a Passat SEL, I would not be able to get the 6-speed manual with the TDI engine, I'd lose a few miles per gallon, and lose some of the responsiveness of this drivetrain.  So, though it did cross my mind, I won't be buying a Passat for my commuting duties.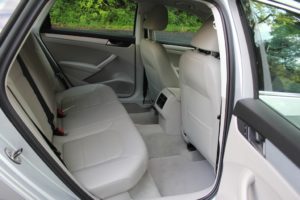 We've covered the interior and fuel economy, but what about its on-the-road behavior?  Well, the Passat is a decent car to drive.  The car has a solid structure that doesn't squeak or rattle, and the steering has a nice on-center feel with decent heft.  There isn't a ton of feedback going from the road to your hands as the hold the wheel, but that is normal for a car with this much of its weight over its front wheels (remember, the VW 2.0 TDI has an iron block, so it's kind of a heavy engine).  The brake pedal is firm, as is tradition for German cars, with plenty of bite early in its travel.  Braking performance is not particularly impressive – just average.
You may be afraid of diesel engines after what General Motors did to Rudolf Diesel's invention in the 70s and 80s, but modern turbodiesels have almost nothing in common with their predecessors.  They can't even use the same fuel – all modern diesels now require ultra low sulfur diesel fuel – just 15 parts per million – and the older formula would damage or destroy the expensive emission-control equipment.  There is almost zero "clatter," except when you force the car into too high of a gear, but almost every four cylinder sounds like that when the engine is bogging in a high gear.  The exhaust smells cleaner than a gasoline engine's exhaust  if you dare stick your nose at the tailpipe, and only under very limited circumstances will you ever see black particulate smoke from a modern diesel.  Volkswagen's 2.0T engine does not require DEF (diesel exhaust fluid, made from urea) to reduce emissions as some larger diesels do.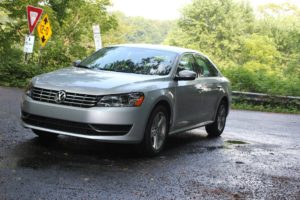 Every night when I arrived at home, I raved to my wife about the economy I was getting in this Passat, so she was surprised when I told her that I didn't think I would be shopping for a diesel for my next car.  Why not, you ask?  Besides slightly less diesel infrastructure available (not every filling station sells diesel), the power delivery is just something that I am not accustomed to.  Unless you drop the clutch, there is a momentary lag before the turbo spools up.  After that, the engine falls into its sweet spot, where the engine's 236 lb-ft of torque come into their own, and the Passat feels stronger than its meager 140 horsepower rating.  But as you approach 3500 to 4000 RPM, the engine runs out of breath.  So, the midrange is very strong, and you won't likely have to downshift often to climb hills, but the gutless bottom end (due to turbo lag) and top end (due to being a diesel) are contrary to my power-delivery preferences.  Maybe I'd get used to it, but that's kind of a big gamble to take when purchasing a new car that may end up driving me crazy.  It's a whole new mindset to upshift well before the redline when attempting a pass on a two lane road.
My test vehicle was equipped with no options other than what comes standard with the TDI SE package.  Base price is $26,225; tack on $795 for its destination charge, and the total price on the Monroney is $27,255.  Remember, this car doesn't have leather seats, doesn't have navigation or a sunroof, and doesn't have niceties such as xenon HID headlamps, all wheel drive, or other luxury options.  What you're getting is a large, extremely efficient, reasonably fun-to-drive car.  It's easy to see why Volkswagen sells so darn many diesels in the U.S. (relative to its overall sales volume):  the 2.0 TDI is an outstanding engine.  The Passat could be a better car, but it could also be worse.  Its biggest crime is not trying hard enough to set itself apart, aside from offering the only diesel in the segment until the Mazda6 with its SkyActiv-D hits the streets.  We can't wait to drive that one.
Volkswagen provided the vehicle, insurance, and 3/4 of a tank of diesel fuel for this review.  That was plenty!