Review: 2013 Hyundai Veloster RE:MIX 6MT
I can remember as a child riding along in our family's Suburban when my mother would pick up my grandma to take her to an appointment.  We'd either have to bring along a stool to assist with her ingress or nearly lift her into the large truck.  I'm sure you've seen plenty of "soccer moms" who are roughly the size of my late Grandma Haak driving hulking SUVs and minivans, and you might be struck by the irony of a small person in a large vehicle.  Then there is the opposite situation – big people in small cars.  One of the funniest things I ever saw was a giant guy – probably 6'6″, 250 pounds – standing next to his broken down original Mini Cooper along the highway. The point is, there are just some cars that don't seem to fit certain drivers.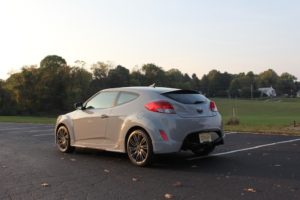 The good news is that even though friends may find the notion of me in a subcompact car at 6'4″, 190 pounds, I do fit into the Hyundai Veloster, despite rumors to the contrary.  I can even squeeze myself into one of the two rear seat positions, though that's much easier to do from the passenger side of the car, where there are two doors, than from the driver's side, where there's one longer coupe-like door and a frustrating seat mechanism that doesn't return to the previous fore/aft position or return the backrest to its previous position after someone has scrambled into the back seat.
That brings me to my fundamental problem with this car:  Why in the hell did they only give it three side doors with a hatch instead of four side doors?  It's weird to have an asymmetrical car (though not as weird as the asymmetrical Nissan Cube) and the Veloster's passenger side is so much more practical to use than the driver's side, every encounter with the back seat made me wish it had a rear door on the driver's side of the car.  Adults climbing into the back seat?  Difficult and ungraceful from the driver's side, and there is a severe lack of headroom for a 6'4″ passenger like me.  Kids who love to push and shove getting into the back seat?  Difficult.  Needing to help said five year old buckle his booster seat on the left side of the car?  Difficult.  Adult sitting in the left-rear seat wants to exit the car from the rear passenger door on the car's right?  Difficult unless there is no other passenger back there and there are no beverages in the center cupholder.  If there aren't, it's not necessarily difficult, but it will be ungraceful.
The thing is, the Veloster would look just as cool with four doors as it does with three, but that would remove a conversation point about the car when you show it to friends, plus it is probably a bit less expensive to build the car with one fewer opening to stiffen and seal.  The door issue is my biggest single gripe about the Veloster, but it's just one example in a series of form-over-function tradeoffs that the Veloster's buyers will have to accept.
Just look at this car.  It's a really cool shape – very sporty, very unique.  It looks like it's a true hot hatch, a legitimate successor to the MkI VW GTI.  It has low profile 40-series tires on 18 inch wheels, an aggressive stance, a body kit, cool LED accent lighting, and a low roofline.  This particular Veloster also has a six speed manual.  A real car with three real pedals!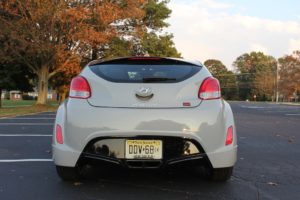 Don't let the shape fool you.  The body is writing checks the drivetrain and chassis can't cash, and in a big way.  Producing just 138 horsepower, the Veloster's 1.6 liter direct injection four cylinder just doesn't offer enough grunt to serve up a sporty-car driving experience.  What's more, the ride is unnecessarily harsh (and believe me, I have very high tolerance for firm suspension tuning) – which you can probably partially blame on the low profile tires and wheels.  Traveling over rough pavement, the Veloster RE:MIX transmitted far too many impacts into the cabin and through the steering wheel.  The P215/40R18 Kumho tires seemed to allow more wheelspin than expected given the car's modest power output.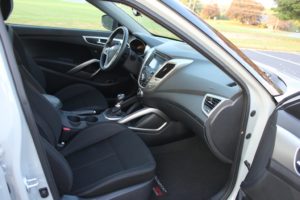 Though it's lacking in power, the Veloster is very easy to drive.  The clutch is easy to modulate with a fairly moderate effort and the takeup point is easy to learn.  The shifter is a bit notchy with long throws, but to the car's credit (more than mine), I never missed a shift in about 350 miles and a week of driving.  The only part about driving the Veloster that isn't easy is backing out of or into a parking space.  The split rear window and thick C-pillars challenge rearward visibility, and our tester did not have a backup camera, so I was on my own except for help from my mirrors or possibly opening my door and sticking my head out the opening to watch my rearward progress.   (A backup camera is available on Velosters equipped with navigation; that is not an option on the RE:MIX).
Given its looks-first engineering brief, I was not surprised to find seats with large bolsters in the Veloster's front seating positions.  Honestly, I didn't challenge the car's handling capabilities enough to really need that much lateral support, but unlike in some cheap cars' seats, my butt didn't fall asleep after an hour behind the wheel, so I guess that's good.  Adjustments are 100% manual, for better or worse.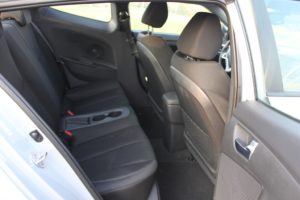 The interior is mostly constructed of hard plastic, and that includes the door armrests (ouch!)  The center armrest is wider and softer than those you find in most cars, so no complaints from my right elbow, but the left one isn't happy.  Though I'm griping about hard plastic, you really should not expect much more than hard plastic in this price class.  To Hyundai's credit, the dash is at least the low-gloss variety of hard plastic, and it has a cool texture that lends a pleasing rubbery tactile sensation when you drag a fingernail across it.
Our tester was not equipped with navigation, but was equipped with a large LCD touchscreen that was big enough for a navigation system, had one been available in the RE:MIX model.  Unfortunately, navigation is only available in the Veloster Turbo (part of the $2,500 Ultimate Package that also includes a panoramic sunroof) and in the base Veloster if you choose the $2,000 Tech Package (which itself requires the $2,000 Style Package).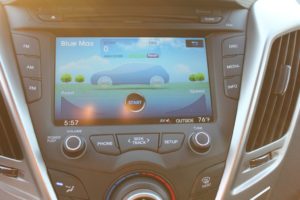 The touchscreen is responsive and has a fairly high resolution display (except for the time that it crashed and didn't pair with my phone, and the screen literally froze on a still image until I turned off the car 15 minutes later).  Hyundai throws in two fuel-economy improvement tools in the infotainment display; one is a history graph that shows your average MPG for every 2 1/2 minute period of your trip.  The other, called Blue Max, is literally a game.  Blue Max awards points for economical driving.  Once you start the game, a 10 minute timer counts down and you try to set a record number of points during that time period.  There is no pausing, but you can time the start of your play to a long downhill stretch.  I did that and managed to set this car's record score of 43,101 points.  Bluetooth audio and phone integration is included, as is Pandora integration.  AM/FM/XM are also on tap, and the Veloster RE:MIX includes a Dimension audio system with 8 speakers, including a subwoofer.  Sound quality was frankly a little hollow, but I also wasn't expecting a Bang & Olufsen system in a $21,000 Hyundai.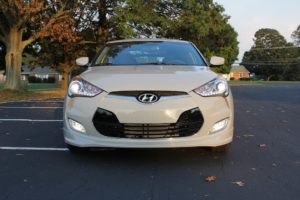 If you choose to buy a Veloster RE:MIX, ordering is fairly simple.  The RE:MIX has no optional packages – you choose the RE:MIX, you choose a 6-speed manual or 6-speed dual-clutch EcoShift gearbox, choose a color, and that's it.  The only seat choice for the RE:MIX is cloth; as noted above, the seats have decent bolstering.  The cloth also feels like it's made of a reasonably high quality material.  There's a special color, sprint gray, that is unique to the RE:MIX model, and that happens to be the color on our tester.  A new car in a nonmetallic light gray is unusual to see, but the car looks good in it, and I was happy that this particular model had a color that wasn't available in other Velosters.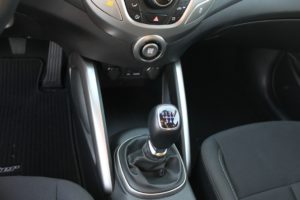 When Hyundai was forced to concede that it had "mistakenly" inflated the fuel-economy ratings in basically its entire lineup a couple of years ago, the Veloster fell from 40 MPG highway to this car's 37 MPG figure (27 city/37 highway/31 combined, says the EPA).  I got about 31.5 in my week and 370 miles with the car, which is not particularly impressive for a car that's so small and has such a wimpy engine.
The Veloster RE:MIX with the 6-speed manual starts at $20,050, has no available options, and requires a $795 destination charge to ship it from its assembly plant in Ulsan, South Korea.  The total MSRP is $20,845, which slots it between the base Veloster and the Veloster Turbo in the lineup.  (The dual clutch transmission would add $1,250 to the RE:MIX's price).  That's fairly inexpensive for a car that has a decent roster of equipment.  The Honda Civic EX Coupe, according to our friends at TrueDelta.com, is about $1,755 more expensive than the Veloster when accounting for equipment differences.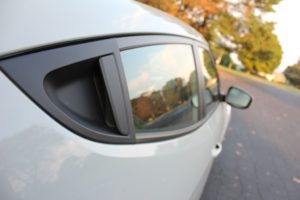 I'm clearly far out of the target market for this car.  Would I buy it over a Civic Coupe?  Probably not, but the Civic has a stodgy shape against the Veloster's sport-hatch, egg-like design.  The Civic has only two side doors to the Veloster's three, but has a more usable rear seat once you get yourself into the back.  The Civic, particularly 2013 and 2014 models, offers far more refinement in the ride and handling than the Veloster does, and it will likely be worth more money at trade-in time.  Plus, if you get a manual transmission in your Civic, Honda is one of the best in terms of shift action, while the Hyundai leaves a bit to be desired.
The Veloster is a good car, no doubt, but design compromises to make it look good are also harming the car's practicality, and for me, that's a deal killer.
Hyundai provided the vehicle, insurance, and a tank of gas for this review.