Review: 2013 Dodge Journey R/T AWD
Don't think for a second that I am not aware of how fortunate I am to have an outlet in which to write anything I want to about cars.  Plus, I get to drive nearly every new car that's been introduced over the past year, sometimes on racetracks, and I often enjoy the perks of press cars provided by manufacturers.  In return for "coverage" (a review, either written or video), we are given use of a new car for a week, including a full tank of gas and insurance.  It's a great gig that has kept many miles off of my own daily driver, a 2008 Cadillac CTS with just over 50,000 miles on the odometer.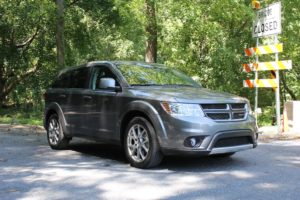 So when a press car comes along that I dislike so much that I'm willing to park it in my garage for half of my week, despite still having nearly a half tank of gas remaining, and would chose to put the wear and tear on my own vehicle and consume my own gasoline, that must really mean something.  It's a pretty unusual experience; in the past five years, I have reviewed more than 100 press cars, andI believe this Journey is only the second one that I have elected not to drive for the full week loan.
Just what exactly is so horrible about the Journey?  Well, it's not horrible, but some things about it really bother me.  It's certainly not the best new car that Chrysler builds today; that may be the RAM pickup or the Jeep Grand Cherokee.  It's fundamentally a DaimlerChrysler-era holdover (though it was launched during Cerberus' disastrous ownership of Chrysler, it was developed almost entirely during Daimler's ownership of Chrysler), and serves as a reminder of just how far Chrysler has come over the past few years, not to mention how far it still has to go with some of the vehicles in its lineup.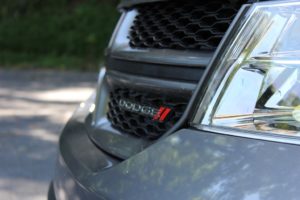 The 2009 Journey, when it was first launched, was intended to replace the short wheelbase Dodge Caravan (with the minivans moving to a single, long wheelbase).  It has optional seating for seven, and though it offers nowhere near the amount of cargo space, people space, or utility of even a short wheelbase minivan, it was a fairly early entry into the very competitive crossover market.  Unfortunately, the original Journey had a series of problems, ranging from a subpar interior (with cheap materials and a very strange, squared-off design) to awkward throttle response, and uncompetitive powertrains.
One place the Journey actually held its own, even in its original form, was in its design.  One online comment said, "it's not handsome," so apparently, the shape does not suit everyone, but it's a fairly conservative, reasonably good-looking vehicle.  Very little creativity was employed when designing the Journey, but the original shape was clean enough such that it did not require an update aside from the grille and the addition of LED taillamps when Fiat acquired control of Chrysler and instituted a much-needed series of model refreshes.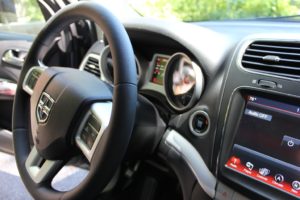 Inside, I was pleasantly surprised by what I saw at first glance.  I had not been following the Journey's journey through its life cycle, so I was not aware of exactly what its updates entailed.  They were similar to those given to the Chrysler Sebring (which became the Chrysler 200) and Dodge Avenger – the squared-off, hard plastic dash and door panels were ditched, and replaced by a more organic shape with a soft upper dash and door panels, stitched vinyl on the armrests (both door armrests and the center armrest) and an updated UConnect Touch infotainment system in the center of the dash.
Chrysler's old navigation radios with the original version of UConnect were not particularly user friendly and had small screens with small maps.  The new system, at least in models that step up to the plate with factory navigation, get a giant 8.4 inch diagonal screen with a 4:3 aspect ratio (most competitors' navigation displays are widescreen, more like 16:9 as in HDTVs.)  First, the large screen featured prominently on the dash just looks cool, even when turned off, because it's almost as large as the TV my parents used to have in their kitchen.  The large screen instantly gives the Journey some credibility with the tech crowd.  Second, it's a very easy to use, responsive system.  It responds to the lightest touches, has large, clear menus and buttons, and all functions are arranged logically.  UConnect Touch is everything that MyFord Touch promised to be, but is not.  (Take note: despite Ford's massive promotion efforts of MyFord Touch, it has disappointed many customers, whom Ford blames for not understanding its system.  I've heard no such criticisms of Chrysler's system, which has identical functionality.)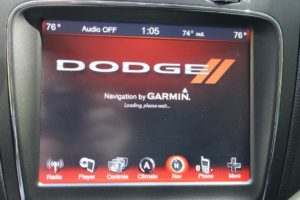 The only issue I had with the Journey's UConnect Touch system is that its Garmin-sourced navigation system just did not work.  I don't know what the issue was (perhaps an earlier journalist removed an SD card that provides map data, though ususally you get a warning message if that is the case, and there was no warning message).  When you pushed the navigation icon on the screen, it would say, "Loading, please wait…"  However, instead of waiting a few seconds, the "please wait" screen never went away – even after a 50 minute drive.  I never was able to get navigation to work.  However, Garmin navigation with the large UConnect Touch system is generally excellent, so perhaps this was just a foible specific to this particular Journey.
Worse than the navigation system issue, however, were transmission issues.  This test vehicle has less than 1600 miles on the odometer, so no matter what it has seen before it entered into my care, there should be no issues with the transmission.  But, I first noticed a strange thumping when manually holding it in third gear and applying throttle – it was very abrupt, much more than I've seen in other vehicles.  Then I started paying attention to the way it shifted, and it actually shuddered during the 1-2 and 2-3 upshifts, almost as if there was some slippage.  I will ask the fleet management company to take a look at this when I return it to them, but it did not inspire a lot of confidence.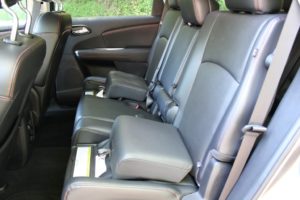 Finally, the last issue I had, which may sound as if it's the most nitpicky, was that the Journey's turn signals had a very annoying high pitched metallic sound when they were activated.  The normal clicking sound was present as well, but there was a fingernails-on-a-blackboard sound as well that was so annoying, I was almost tempted to skip the turn signals from time to time.  That's really saying something, since I'm a zealous turn signal user for every lane change and turn, even on deserted roads.
Navigation, transmission, and turn signal nitpicks aside – and they were the three that really encouraged me to park the Journey earlier than planned – there were other issues as well.  The tires do not appear to have very much grip, with very low limits (they are 225/55R19 Kumho Solus KH16 all seasons) which means they howl during aggressive driving and hard braking makes them quickly lock up, which of course pulses the ABS and extends stopping distances.  The Journey's steering is also is very light and almost devoid of feedback; in general, aside from the fact that few crossover competitors have steering that offers good feedback either, the steering is kind of a letdown as well.  It's hard to say whether it's a function of the tires or the steering mechanism.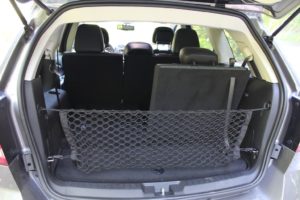 Crossovers are all about seating capacity, and the Journey offers optional three-row seating capacity, with seat belts for seven passengers.  As with other smaller crossovers that offer three row seating, the third row is almost not usable for any humans other than very small ones.  I'm 6'4″, but when testing a crossover, I can usually can squeeze myself into the third row at least to humor myself.  In the Journey, it was nearly impossible when the sliding second row was in its rearward position for me to even put my feet on the floor in the third row.  When the third row is not stowed, there is only minimal cargo capacity behind the seat.  Both rows of rear seats fold flat, but not into the floor, so it's easy to load long items, but there isn't a lot of room for cargo height in the Journey. Our tester was equipped with integrated child booster seats, which were kind of cool to see.  I found the driver's seat to be insufficiently supportive; it felt as if it could use a bit more padding, but it wasn't firm as seats are in many European models.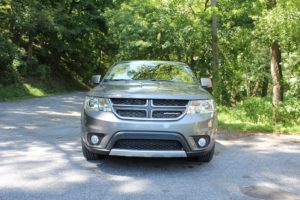 The EPA rates the Journey's fuel economy at 16 MPG city/24 MPG highway/19 MPG combined.  I got about 18.4 MPG in the end, but during most of my 200 miles with the Journey, the average was above 19 MPG – local driving on back roads hurt the average a bit.  Having just returned a Volkswagen Touareg TDI, I'm a bit spoiled by that larger vehicle's diesel powertrain giving me 25+ MPG, so I'm not thrilled with the Journey's mileage, but it's about par for the class.
I've dropped a lot of hate on the Journey in this review, and I do feel bad about that.  Chrysler's engineering team has done a very good job with the 2013 Journey considering how bad their starting point was.  If there is to be a next-generation Journey, it will almost certainly be more competitive than this one.  Presumably, the 9-speed automatic that is being fitted to 2014 Jeep Cherokees will find its way into the Journey's replacement, so that – along with a much-improved chassis – would go a long way toward addressing the Journey's ills.
For $34,260 as-tested (there are currently $2,000 rebates on 2013 Journeys, though), this is not a vehicle on which I would spend my own money.  Do yourself a favor and sample the Journey's competitors before signing on the dotted line for one.  If you still like the Journey after that, then go for it – but don't just buy one of these because the spec sheet sounds good.
Dodge provided the vehicle, insurance, and a tank of gas for this review.