Review: 2013 Chevrolet Spark LT
When I was 16 and first started to drive, I of course began by driving a used car.  It wasn't a particularly fancy car – it was a five year old Pontiac Grand Am that my parents paid $4,000 for, and that they made clear was not actually my car.  A car titled in my name did not come for several years later, but I remember at the time being glad that I had a Grand Am SE, not just an LE or a base model.  At that time – 22 years ago – I decided that I would prefer to have a well-equipped used car instead of a bare bones new car.
Thinking about the Haak Doctrine from 1991 as I drove the 2013 Chevrolet Spark 2LT, it was hard not to think about what your transportation options are in the $16,000 neighborhood that the Spark is going for ($15,795 price as-tested, which was a 2LT with no additional options atop its $15,045 base price and $750 destination charge).  This car's biggest competition isn't the Honda Fit, Scion iQ, smart fortwo, or even the Chevrolet Sonic – it's a good used car, and frankly, that's kind of a tough comparison.
For instance, I just logged into AutoTrader.com and searched for Chevrolet Malibus.  A used 2012 Malibu LT (previous generation) with 8,384 miles has an asking price of $15,663 – basically the same price as this Spark LT.  The Malibu still has at least a year of its bumper to bumper factory warranty and several more years and miles of its 5 year/100,000 mile powertrain warranty.  With the 2012 Malibu, you forego some in-car technology and some fuel economy, but gain performance, comfort, cargo capacity, and (dare I say) prestige.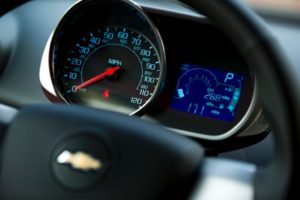 Of all the reviews I've written over the years, I don't think that I have ever compared a new car to a used car, but I really think that a good used car is the Spark's toughest competition.  Plus, even though the Spark is pretty much basic transportation, it has much more equipment than my "loaded" 1987 Grand Am had.  Heck, aside from the excellent leather seats, automatic transmission, and power-closing trunk, I think it has more equipment than my mom's 1988 Oldsmobile Touring Sedan had around that same time.
So why would you spend $15,795 for a new minicar?  You get a new car, with a full new car warranty.  You get the latest infotainment technology, which in the Spark is the excellent GM MyLink, including a very cool smartphone interface that can give your car a full navigation system for just $50 extra.  You get a car that's easy to drive, and particularly easy to park.  There's also an army of airbags protecting you, including driver and passenger knee airbags, as well as torso and head curtain for both front and rear passengers.  Stability control and ABS are standard, as is OnStar.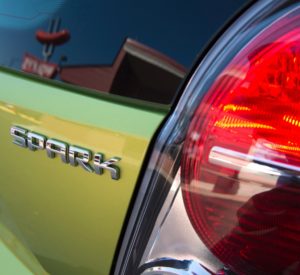 What you don't get is performance.  The Spark has a 1.2 liter four cylinder that produces just 84 horsepower and 83 lb-ft of torque.  If that sounds really weak, that's because it is.  Anything less than 100 horsepower, no matter how small the car (and the Spark is small) is likely to mean that it's not going to offer particularly impressive performance, and frankly, the Spark is kind of slow.  Because it is so small and light, you can still zip around in traffic if you catch other drivers not paying attention.  The five speed manual helps performance a bit (for 2013, a four speed automatic is optional; for 2014, the automatic is being ditched for a CVT to improve performance and economy) but the engine does not like to rev at all.  Past 5000 RPM, you might as well just upshift, because you won't really find any extra pull as the tiny four cylinder runs out of breath.  Oh yeah, and the only kind of rear brakes available in the Spark are drum brakes.  Far from the only new car still available with drum brakes (ahem, Toyota Corolla), they are fine for an economy car, but are more susceptible to fade because they can't dissipate heat as effectively as discs.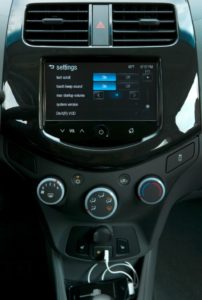 There is plenty of space inside for a driver and front passenger (width-wise, it's a bit narrow).  When you want to stuff someone into the back seat, things get a little dicey.  There are hidden rear doors that look cool, and the Spark is about as small of a four door as you'll find (other U.S.-sold minicars like the Scion iQ and smart fortwo are two door models only), and it has a far better rear seat than either of those (the smart has no rear seat; the Scion's rear seat is there in name only).  Behind the rear seat is a minimal storage area that can be easily expanded using the standard 60/40 split folding rear seat.
During my week commuting in the Spark, I saw overall fuel economy of 33 miles per gallon; that's right around the 32 MPG city/38 MPG highway/34 MPG combined ratings.  It's a good number, but not a particularly impressive one.  If you're interested in saving fuel, cars like the Ford Fiesta are slightly larger and more expensive, but feel like a more substantial vehicle than the Spark.  A used Chevrolet Cruze Eco is rated at one fewer MPG combined than the Spark, but is a much more powerful, comfortable car.  Again the Spark loses the "good used car" comparison.
I can think of a few reasons why the Spark can only basically match the Cruze Eco in fuel economy, despite being a much smaller car with a smaller engine.  Primarily, it's gearing:  the Cruze Eco has a 6 speed transmission and sixth gear is a relatively tall overdrive ratio, so the engine lopes along for long-legged highway jaunts.  The Spark gets only a 5 speed (or 4 speed automatic) so there isn't enough room for a tall overdrive.  Consequently, around 70 miles per hour, the tiny engine is buzzing along at 3500 RPM, which is not a recipe for saving fuel.  The Spark's engine also appears to lack variable valve timing, which helps economy and performance.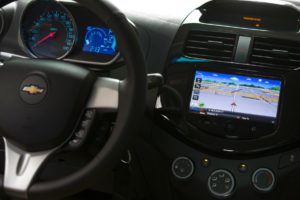 For a tin can economy car, the Spark does come to the table with some great infotainment options, at least if you step up to an LT (either 1LT or a 2LT; our test car was the latter).  Higher-end models come with GM's MyLink, which combines smartphone-like features such as a high-resolution touchscreen interface, and swipe-to-scroll gestures in a smartphone-like interface.  In fact, having a smartphone is essential for getting the most out of MyLink in the Spark, because the smartphone provides the data connection and the music to the Spark.  Aside from broadcast radio (AM/FM/XM), you and your digital media player (smartphone, iPod, etc.) are on the hook for providing audio entertainment.  There is no CD player available in the Spark, which is fine with me.  The laptop I'm using to write this review does not have a CD player either (MacBook Air).  Physical media is dying, especially with the Spark's intended demographic, so why not put the cost of a CD player into improving the connectivity instead, as GM did with the Spark?
MyLink has two apps preinstalled that use your smartphone's data connection – Pandora and Stitcher.  Both apps must be installed on your smartphone in order to work with the car, but once they are and your phone is paired with the car, you can choose Pandora from the Spark's display and the app will open on your phone, and you get full control of Pandora on the Spark's display.  Stitcher requires you to first open the app on your phone, but otherwise similarly integrates with your phone.
There's a third app available for now (and screen real estate in MyLink for several more in the future), and that's BringGo, which uses your smartphone's data connection to provide in-dash navigation functionality to the Spark for just $50.  I'm disappointed that the sample iPhone 4S provided in our tester was not completely set up, so I was unable to test BringGo, but I absolutely love the concept.  First, the price is amazing (factory navigation systems used to cost $1,500 and up).  Second, no additional hardware is required.  Third, map updates should theoretically be constant because the map is loaded from the Internet via your phone's data connection.  The only downside (though this may have been addressed somehow) that I can see is that when driving in areas with no data coverage, navigation may not work.  Since I was unable to sample BringGo, I am unable to say whether that's the case or not.
Americans tend to want larger, safer, more comfortable cars than the Spark, yet the Spark's low price makes a purchase fairly easy.  Chevrolet sold about 30,000 Sparks from July 2012 through June 2013 – that sales pace is ahead of the Volt and Corvette, but behind the Sonic, Malibu, Impala, and Camaro.  Does the world need a bug-eyed, tiny, low-cost Chevrolet?  Well, odds are that without the Spark, at least some of those 30,000 sales over the past 12 months would have purchased vehicles from another automaker, or (gasp) used cars.  Personally, I wouldn't want to drive a Spark every day, but it does make new-car buying accessible to more people and is easy to park and easy to drive.  Plus, city-dwellers that this car is aimed at don't have to spend more than 30 minutes in its seats, a point at which they become very uncomfortable.  I suppose there's just a mismatch between where I am in my life and what this car offers.
GM provided the vehicle, insurance, and a tank of gas for this review.