Review: 2013 Cadillac ATS 2.0T 6MT Premium Collection
As our regular readers may know, I own a 2008 Cadillac CTS.  In August 2008, I fell for that car's charms, and it has been a pleasant ownership experience, though not without some annoyances.  Now that my car is five years old, I feel like I'm ready to move onto something else.  I very much looked forward to spending some seat time in the ATS with the 2.0 liter turbo and six speed manual transmission as a possible candidate for the coveted left-hand parking spot in the Haak garage. But for reasons of cost, practicality, and in-car technology, I'm just not ready to start another few years of car payments for a car that's arguably better than mine in almost every way, with the exception of two big demerits.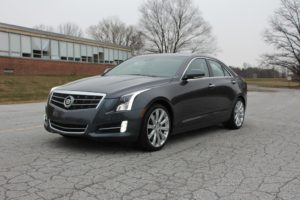 First, the good stuff.  The ATS is a great size (at least in terms of being a driver's car – back seat passengers and those who intend to use its trunk may disagree) and has an amazing chassis.  The car loves to play and is incredibly tossable, particularly when equipped with FE3 performance suspension as our test car was.  Cadillac engineers who created the ATS' new Alpha platform outdid themselves with a structure that is rigid but incredibly lightweight; while the previous-generation (2008-2013) CTS is a heavyweight and you can feel its bulk in nearly all dynamic maneuvers, the ATS excels dynamically specifically because it does not carry anywhere near that amount of bulk.
As a fan of manual transmissions, I'm grateful to Cadillac for equipping the ATS with one, even if it's only available with a single engine (the 2.0 liter turbocharged four cylinder) and single drivetrain (rear wheel drive only), and it's really not a bad gearbox at all.  (Sorry if that's damning with faint praise).  The ATS' manual gearbox at launch annoyed many people and was basically re-engineered to improve satisfaction, and the results are now solid.  It doesn't have the same shift action of some of the best gearboxes (the BMW 1 Series M that I drove a year ago comes to mind) but has a fairly short throw and an easy-to-modulate clutch.  I didn't miss a single shift in the ATS during my week with the car, which I can't necessarily say about the last manual transmission-equipped GM vehicle I tested (ahem, Camaro ZL1).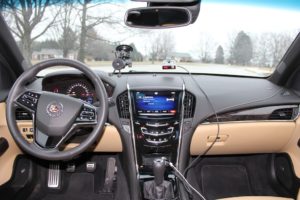 According to the seat of my pants, the ATS with FE3 excels in terms of both steering and braking, and it holds its own in terms of acceleration.  It's just too bad that the manual transmission is not available with the 3.6 liter V6, which would immediately become the enthusiast's choice.  The FE3 suspension in the ATS includes GM's outstanding magnetorheological shocks that combine excellent body control and damping with a fairly compliant ride.  The ATS with FE3 has basically the perfect ride/handling mix, thanks to the suspension and the car's light weight.
While the XTS, which preceded the ATS by only a few months, has what I called probably the best interior that has ever been in any Cadillac, the ATS has a few places where the interior was obviously engineered to a price point.  The vinyl that is cut-and-sewn and which covers the upper dash and upper door panels feels less leather-like than the material used in the XTS; it's very obviously not leather (though at least more realistic than the pebble-textured vinyl used in the 2008-2013 CTS).  There's also some hard plastic on the sides of the center console and in the lower door panels.  Overall, the interior design and materials are very good, though.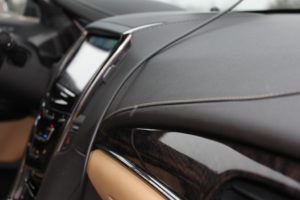 I really liked the interior's color scheme, but the CUE infotainment system continues to be a bit of an enigma.  It's easy to figure out and looks great, but the system just does not have sufficient processing power in order to quickly execute commands.  I found myself on more than one occasion touching the screen, getting no feedback (haptic or otherwise), touching the screen again, only to learn that I effectively executed the command twice once the system caught up with me.
Because the system uses a capacitive touchscreen (similar to what is used on an iPad or smartphone, unlike the resistive touchscreen used in most other cars with touchscreens), Cadillac adds haptic feedback to the system to let you know the system has received a command from you.  This comes in the form of a small vibration behind the screen, which is intended to evoke the sensation of pushing a button.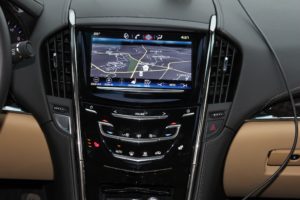 The interface is tablet-like, with large icons similar to an iPad's, and rather than pressing a plus or minus to zoom in or out on the map view, you can pinch to unzoom and unpinch to zoom.  However, the system's reaction is nowhere near as smooth as in using the Google Maps app on an iPhone, for instance.  You'll pinch and not see anything on the screen for a second or so, then as you try again, the system decides to listen to your earlier command.
Do you remember how people beat up on BMW's iDrive when it was first introduced, and now it's practically the benchmark among luxury-brand infotainment systems?  BMW took that criticism to heart, so I'm hoping that Cadillac does the same, because you can bet that CUE is not going away (it is now in the XTS, SRX, ATS, and going into the CTS and ELR.  All that's left is the Escalade, and I'm sure that the next-generation Escalade will have CUE in a few months).  I really think that fundamentally it's OK (aside from not having volume and tuning knobs) and that with a few bug fixes and more robust processing power, it would be a much better system – if you can stand fingerprints all over your glossy navigation screen, that is.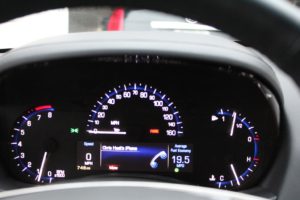 It's hard for me to express just how well this car drives.  The engine – a 272-horsepower 2.0 liter turbocharged, direct-injected four cylinder – has somewhere between adequate power and strong power.  The 3.6 liter 321-horsepower V6 is obviously stronger, but the 2.0T doesn't feel 50 horsepower weaker.  You can thank its flat torque curve for most of that feel.  Neither the 2.0T or the 3.6 liter are the smoothest, most refined engines in the world, particularly at speed, but both are quite sedate at idle.  The EPA rates the ATS 2.0T 6MT's fuel economy at 19 MPG city/30 MPG highway/23 MPG combined.  The 328i with a 2.0T and 6 speed manual is rated at 22/34/26, or about 3 MPG better.  On paper, the 3er gives up a lot of power to the ATS (240 against 272 horsepower) but in reality, the 3er is a bit faster.  Under-rating your engines, BMW?  Anyway, in a week of mixed driving, I saw about 24 MPG.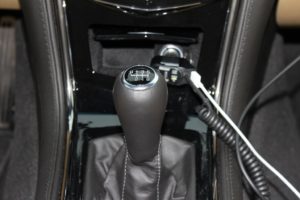 As you navigate along back roads, the ATS's nearly-perfect weight distribution, strong brakes (the fronts are Brembos), and accurate, well-weighted steering make the ATS a joy to drive.  Aside from wanting perhaps more power (and that power is available already from the optional 3.6 liter V6, and I'm fairly certain that someday there will be an ATS-V to compete with the new BMW M3, likely with a version of the CTS Vsport's twin-turbo 3.6 liter V6, producing in excess of the 420 horsepower in the CTS Vsport.  The ATS-V, if it appears, will be an incredible car.
I'd call Cadillac's pricing strategy with the ATS bold, not aggressive.  This particular car, which was rear wheel drive only, though it had the Premium Collection, started at $44.895.  Add the $995 Thunder Gray Chromaflair paint, $850 18″ polished aluminum wheels, $600 cold weather package (heated front seats and steering wheel), take away $1,495 for the manual transmission, and add $895 for destination, and you arrive at a car that costs $47,155.  For a great-driving, cramped, four cylinder Cadillac, that seems a little steep.  However, according to TrueDelta.com, the 328i costs $7,080 more than the ATS when accounting for equipment differences.  The price difference between this ATS and an A4 with quattro AWD and an automatic is closer, with the ATS just $2,715 less.  Of course, with top-spec CTS Vsports out there with $70,000 Monroneys on their windows, some 20 grand less may be about right for the ATS.
Can I recommend the ATS?  Absolutely.  It's a great driver's car, returns decent mileage, and it's fairly priced against a 328i.  The BMW has more interior and trunk space, has a better infotainment system, and it's faster and more fuel efficient.  But the ATS is more refined, handles better, and looks better.  The ATS isn't perfect, but it's the best entry level Cadillac that the company has ever built.  Unfortunately, its lack of interior utility, small trunk, and frustrating infotainment system most likely will keep it off my consideration list for the next new car I buy.
Cadillac provided the vehicle reviewed, a tank of gas, and insurance for this review.