Review: 2013 Scion FR-S 6MT
The scion of Toyota's founding family, Akio Toyoda, has gone on record a number of times saying that he wants to make it more fun to drive his namesake company's cars.  Mr. Toyoda had quite a bit of input into the development of the Scion FR-S/Toyota 86/Subaru BRZ, and the cars have generally been well-received by the press, with criticism focused mostly on their stock tires and lack of power from the 200 horsepower naturally aspirated boxer four cylinder, which happens to be the only engine choice.  We recently spent a week getting re-acquainted with the Scion FR-S.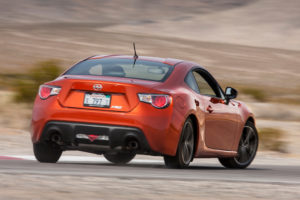 In terms of looks, the FR-S makes a great first impression.  It's low to the ground, has a long dash-to-axle ratio that communicates its rear wheel drive layout, and it's a simple, attractive, minimalist design.  There are a few small design flourishes (the '86' on the fenders, flanked by boxer pistons is a cool touch) but the car really has a no-nonsense shape.  Despite the swoopy roofline, it's a notchback, not a hatchback, with a discrete trunk.  Why?  Because hatchbacks take away from body rigidity and add weight, both of which are the enemy of sporty cars.
Fall into the FR-S's driver's seat (it's hard to get into and out of the car gracefully, if only because the door openings aren't huge, and the seats are extremely low to the ground) and you're greeted by cloth seats with huge bolsters.  The seats do a nice job of holding you in place, though I really would not want to be any bigger or heavier than I am (6'4″ 190 pounds) while spending an extended period in the FR-S's seats.  A few weeks ago, I took a Subaru BRZ on a racetrack, and learned that having enough headroom without a helmet is not the same as having enough headroom with a helmet – my head was constantly against the ceiling when wearing a helmet no matter how I tried to adjust the seat.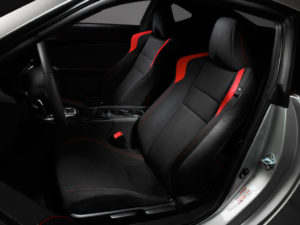 There are rear seats in the FR-S, but they're useless for passengers unless 1) both front seat occupants are extremely short and the rear seat occupants are also extremely short, or 2) nobody is sitting in the front passenger seat.  When I drive the car, the back of the driver's seat is against the front of the rear seat.  I did manage to fit my son in his booster seat in the back seat of the FR-S for a brief trip across town, but no adult in my family could have ridden in the seat in front of him.
Anyway, you start the FR-S using a physical key on the steering column (how quaint!) and as the engine comes to life, you feel initially as if you're going to vibrate to death.  Noise, vibration, harshness mitigation was not likely on the Toyobaru twins' development agenda.  Holding the steering wheel, or worse – the gearshift – and you can really feel every revolution of the 2.0 liter boxer four.  As you slip the FR-S into gear and release the clutch, you also quickly discover that the exhaust is fairly loud and the ride is fairly harsh.  After my first 100 miles behind the wheel of the FR-S, I was sure that my wife would hate me for asking her to use it to get to an out of town wedding about two hours from home.
Sometimes, cars don't make the best impression initially, but you begin to appreciate them for what they are, and you may not add the car to your own shopping list, but you at least have to respect the car for what it is an what it can do.  The FR-S is not a particularly comfortable car, and it's not super fast, but man, is it ever a hoot to drive.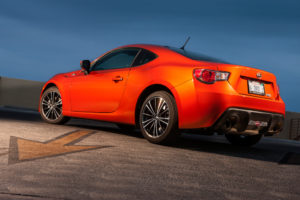 In stock form, with Prius parts-bin tires (as our tester was equipped), the FR-S is not amazing on the racetrack.  There's not enough power and not enough grip.  But guess what?  Most FR-S buyers will never take their car anywhere near a track.  Those who do track their cars will still drive on public roads – home of traffic, stop signs, speed limits, and idiot drivers – 99 percent of the time.  There's not enough room for me to wear a helmet and drive the FR-S, but I don't wear a helmet when I drive to work.
With this recalibrated perspective, the car is fun.  It's not fun at 9/10ths (not that I even took the car there on public roads) but it is fun at 7/10ths, for instance on a long, deserted freeway on-ramp.  Just like you can learn winter driving and car control in an empty snow-covered parking lot, you can practice throttle-initiated oversteer on a 270 degree cloverleaf when merging onto a highway – when by yourself, just go a little faster than you would if your spouse and/or children were in the car, and try a little car control exercise.  Don't worry – if you overdo it, the car's stability control will bring things back in line, or you can always just stab the brakes to put more cornering forces on the front tires.  You even get a sport mode on the stability control to allow some slippage.  Definitely a nice touch.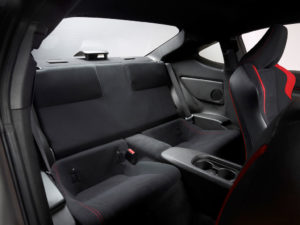 You really also do not need more than 200 horsepower in daily life in such a light, well-balanced car.  The FR-S is a no-nonsense car.  You can't even get factory navigation in it (though it is available in the Subaru BRZ version) and there is very little in the car that does not serve to further performance, economy, or occupant safety.  The exhaust is on the louder side (some might say that it drones when traveling at highway speeds), but that actually helped my self control when driving around town.  You think you're driving faster than you actually are, and it's fun to row through the gears, then heel-and-toe downshift as you approach corners.  You'll probably lose a race (unless it's a spec race) but darnit, you'll at least enjoy your loss.
The six speed manual in the test car was incredibly easy to use.  Shift action is somewhat firm, but very direct-feeling, and dare I say, Honda-like.  The clutch's takeup point was exactly where I expected it to be.  It would be a great car in which to teach someone how to drive stick.
Looking at the FR-S's window sticker, I was kind of overwhelmed by the EPA fuel economy numbers – 22 city/30 highway/25 combined.  But, despite my not babying the car, and assisted by four straight hours of highway driving, I did the impossible – I actually beat the EPA highway number, if just barely.  The FR-S' trip computer showed 770 miles and 30.1 miles per gallon when I returned the car.  Numbers in a lab are one thing, but I can tell you from experience that I rarely even get the EPA combined fuel economy, much less the highway number, after a week with a press car.  So, real-world economy was excellent.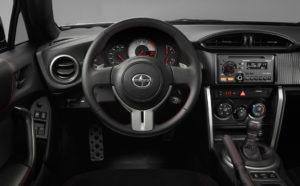 Depending on your perspective, there are new cars for $25,066 (the Scion's price as-tested, with no options but a $69 rear bumper applique and $67 wheel locks) that could be more fun, but it's hard to imagine a coupe that's so well-balanced, so economical, so fun to drive, and – sadly – so impractical as a family car as the FR-S.  I was sad to see it go, but my late-30s self is probably too "mature" for a car like this as a daily driver.  To the Scion's credit, though, my wife did not register a single complaint during our four hours together in the car (spanning two days) except that it did not have automatic dual-zone climate control (actually it didn't have automatic climate control, nor did it have dual-zones).  If that was the biggest complaint from the Haak family's harshest auto critic, then Toyota's scion must have done something right when pushing for this Scion's development.
Scion provided the vehicle, insurance, and a tank of gas for this review.