First Drive: 2014 Rolls-Royce Wraith
Thinking of luxury brands that offer driver's cars, Rolls-Royce is probably be pretty far from the first one that comes to mind.  Rolls-Royce cars are generally built for those who prefer to be driven, not for those who drive.  I was reminded of this again as I rode in the supple back-seat accommodations in a Rolls-Royce Ghost sedan that whisked me away from the airport in Phoenix.  I didn't travel across the country and take a red-eye flight home to sample the Ghost; I was in Arizona to be among the first to drive the all-new 2014 Rolls-Royce Wraith.  A coupe, by its nature, is not going to be a chauffeur-driven car, so I was eager to see how the Ghost's platform transitioned into not a personal-luxury coupe, but a personal ultra-luxury coupe.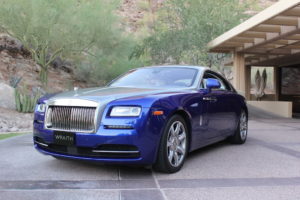 I rolled my eyes a bit during the media briefing prior to hitting the road when Richard Carter, Rolls-Royce's director of global communications, told the assembled journalists that the Wraith was indeed a Rolls-Royce intended for owners who want to drive, and not to be driven.  I felt as if I had heard that line before about another luxury car, and it's possible that I had, though I came up empty in a Google search to prove that hypothesis.  Nevertheless, the things that we were told about the Wraith – uncharacteristically bold styling (in particular with its fastback profile), firmer suspension, an exhaust note tuned a few notches louder than 'imperceptible' and a monster 6.6 liter, 48 valve, twin turbocharged, direct injected V12 – all sounded pretty appealing.
It's always a good day when I have the opportunity to drive a 500+ horsepower car, and the Wraith's 624 horsepower and 590 lb-ft of torque made it a great day.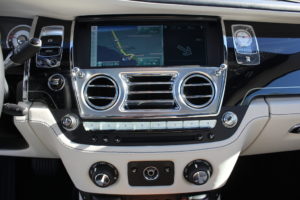 Rolls-Royce engineers chopped more than seven inches off the Ghost's wheelbase when creating the Wraith, but don't think for a moment that the Wraith is a small car.  It's a small Rolls-Royce, but Rolls-Royce automobiles live in a different universe than the rest of the automotive spectrum does.  The Wraith is still longer than most vehicles.  Inside, the 2+2 layout that leaves many cars with back seats that are wanting for space still enabled me as a six footer to fit comfortably in the rear seat.  It's not exactly a family car, but you could certainly haul your family around in it, provided your family only had two members.  Or, more likely, you could shuttle your entire foursome to the golf club in the Wraith, and the 16.6 cubic foot wool-lined trunk would likely hold all of your clubs.
Often, 5,200-pound cars are not exactly fun to drive.  Weight is the enemy of performance, or so we've been told.  Just ask Colin Chapman's ghost.  We've seen BMW's turbocharged engines cause overweight cars to defy physics before, and it's remarkable how having 624 horsepower underfoot does such a remarkable job of hiding the Wraith's heft.  While spending nearly four hours and almost 200 miles behind the Wraith's thin-rimmed steering wheel, I was constantly aware of the fact that I was driving something special, yet I was never nervous about the fact that the car I was driving cost nearly twice as much as my house did 11 years earlier.  That's because it is so darn easy to drive.  It's also easy to lose awareness of how stinking fast you're going.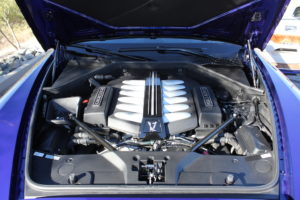 From 65 miles per hour, floor the accelerator for little more than an instant, and you are suddenly hitting triple digits.  Aside from a muted growl from the V12 (which sounds very much like a BMW inline six in terms of pitch), there is an almost uncanny silence from the Wraith at those speeds.  Basically no wind noise and no road noise.  The weight that should be the enemy of handling also gives the big car a sensation of superb stability.  Our drive route didn't include any tight, winding roads, probably because a big, powerful car like the Wraith would be out of its element on those.  We did, however, enjoy many miles of long sweepers with spectacular desert vistas as we traveled along Route 87 and later Route 188 through Tonto National Forest.  It was within those segments that I appreciated the excellent damping and body control bestowed upon the Wraith, not to mention its super-grippy Goodyear 255/45-20 tires (tyres?) up front and 285/40-20 in the back.  Larger (21 inch diameter) tires are optional.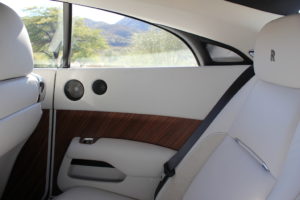 The more you drive the Wraith, the more you want to drive it.  When my driving partner and I were on the open road, cruising somewhat above the legal limit (but with my trusty Passport keeping vigil over all known radar and laser bands), it was easy to imagine doing the same thing for hours on end.  As our group convened over dinner that evening, there was a unanimous opinion that the Wraith would be one of the best ways possible to travel across the country.  It's not a car for commuting, it's a car for crossing continents.  Take your Wraith from Brussels to Milan to go shopping.  Then, the next day, head over to Paris for lunch.  I really believe that you would not be fatigued after attempting such a trip in the Wraith.
Spending an afternoon living like the 0.001 percenters and driving a Rolls-Royce makes you feel special.  As we re-entered civilization on the outskirts of Phoenix and encountered some traffic volume, we noticed that several fellow motorists were scrambling to get a closer look at the Wraith, and they'd point and gawk at the car.  With just a few thousand cars sold worldwide annually, Rolls-Royces are not a common sight in most Zip codes.  With an options list as long as my forearm, not to mention an entire Bespoke team that will let you customize your Wraith in almost any way that you can imagine, it is almost impossible to find two identical Wraiths.  A few key options:
Starlight headliner containing 1,340 hand-placed fiber-optic cables that give the look of the stars.  The Bespoke team will even work with astronomers to replicate the heavens on the day you were married, or to create a particular favorite constellation
A paint palette of 44,000 colors, plus the ability to define a custom color that Rolls-Royce will never allow any buyer to use without your permission
20,000 wood veneer combinations
Custom-fitted Rolls-Royce luggage that costs as much as some cars do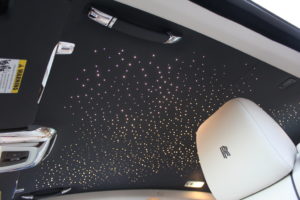 Bespoke customization finds its way onto nearly every Rolls-Royce sold, and typically at a large price premium over the base price.  The Wraith starts at around $260,000 in the U.S., but nearly every example that we saw in Arizona had MSRPs in the $350,000 neighborhood.  That's still chump change for this car's buyers, who are, literally, the richest people in the world.
Nearly every car on the road has some kind of compromises baked into its design, materials, or engineering, but it's nearly impossible to find any of those inside the Wraith.  Every interior surface is made of (and all genuine) wool, leather, wood, steel, or glass.  The only plastic that we could find were on the navigation screen LCD and possibly the covering over the gauge cluster.  Aside from the wonky ergonomics that come from a function-follows-form traditional interior design, I had just three interior complaints:  there is no padding on the left side of the center stack, so your right knee can uncomfortably bang into it; that same spot is hollow plastic covered in leather, and it's kind of obvious; and we could not find the USB connector to directly plug in an iPhone.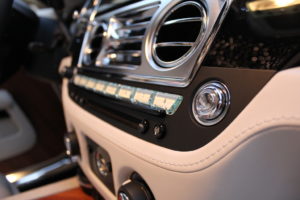 Not surprisingly, the Naim Audio system (apparently Rolls-Royce ditched Lexicon since the latter started selling their wares to Hyundai for the Equus) sounds spectacular – probably the best audio system I have ever heard – and that's despite the handicap of listening to Bluetooth audio streaming wirelessly from my iPhone.  The sound is crisp, pure, and strong, with zero distortion throughout the entire volume range, until we were risking our long-term hearing by turning the knob any higher.
Last year, Rolls-Royce set an all-time world sales record, with 3,575 of the ultra-luxury cars finding buyers in 2012.  As expected, a company that chases profit (oh, does it ever!) and not volume would not give sales volume projections for the Wraith.  Knowing that about 2500 of the company's 3500 sales last year were Ghosts, I'd estimate that the company will sell between 500 and 1,000 Wraiths for model year 2014, and there will be little cannibalism of the company's other models from the Wraith.  Most of those sales, the company expects, will occur in North America.  It's a shame that most of us will never have enough disposable income to afford a Wraith, because it really is one heck of a car.
Rolls-Royce provided airfare and two meals, as well as about 200 miles of seat time in the Wraith for this review.