Review: 2013 Chevrolet Malibu LTZ 2.0 Turbo
Back in 1997, when Chevrolet re-introduced the Malibu after a 14 year hiatus, we were told that buyers in the segment wanted boring, nondescript cars.  Buyers didn't bite.  Roughly a decade later and two model generations later, Chevrolet finally gave us a good-looking Malibu, and sales took off.  So what did they do when it was time for the fourth generation of the front wheel drive Malibu?
They went back to the 1997 playbook and didn't aim to be the segment style leader, instead giving buyers a car that looked almost exactly like the 2008-2012 car, and with a smaller interior.  Well, that didn't work, and the all-new 2013 Malibu has lost almost two points of market share from 2012 to 2013 (calendar year basis).  Could it be that the Malibu has a fundamental problem that is causing buyers to ignore it in the marketplace?  We asked for a top-spec LTZ model in order to make that assessment.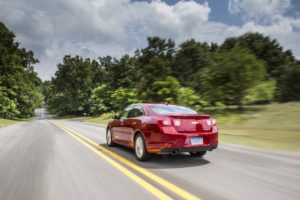 The first impression is favorable.  The Malibu is an attractive, cleanly-designed car.  One gets the impression that it won't wear out its design welcome as fast as the likes of the Hyundai Sonata or Kia Optima might.  But it's also not the class beauty queen; we all know that crown goes to Ford's new Fusion (which, by the way, lost almost three points of marketshare in 2012, a year that was mostly the wind-down of the old Fusion and the launch of the new one).  Really, the only problem with the Malibu's design is that it is strikingly similar to the old car, sold from 2008 to 2012.  I'm not sure if this was intentional or not, but it requires a seriously trained eye to pick the two cars apart from most angles (not the rear, but the front and profile.)  On one hand, looking like the previous model is kind of like automotive comfort food.  It works for BMW and their 3 Series, after all.  But on the other hand, who wants to buy a 2013 model-year car that looks like a 2008 version of the same car?
Inside, it's clear that you're not sitting inside a 2008 Malibu.  While GM certainly stepped up its game when moving from the homely 2007 Malibu to the 2008 car, and the 2008 car's interior was much, much better than the 2007's, the last Malibu had its own set of interior issues.  For one, navigation was not available at any price.  For another, the door panels were a bland, uninspired design that screamed loudly and proudly that they were made of plastic and nothing but plastic.  There was no fold down armrest in the center-rear seating position.  The car had length but no width.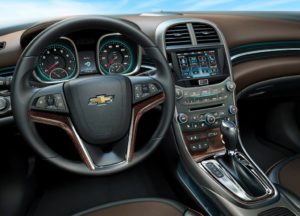 With competitors turning up their game in a big way, GM had to move quickly to update the Malibu.  Unfortunately, their half-baked strategy of selling the Malibu Eco (with the carryover mild hybrid system) instead of the volume 2.5 liter four cylinder was a fool's errand, and selling the fuel-sipping variant of the new car first, alongside the previous-generation model that looked almost identical did no favors for the Malibu's marketing team.  The car's sales have not met expectations, and GM has instituted a crash update program for the 2014 Malibu similar to what Honda did with the Civic to address problems earlier than a typical mid-cycle refresh would occur.
Despite now having a full lineup and a car that's only a year away from a full redesign, including a new platform and two new engines, Malibu sales are down 14 percent year to date through September 2013.  The Fusion is up 17 percent, the Accord is up 14 percent, the Camry is up 1 percent, Mazda6 up 10 percent, and the Altima is up 7 percent.  And now, the 2014 Malibu with some very rapid revisions is around the corner, as Chevrolet attempts to salvage falling Malibu market share.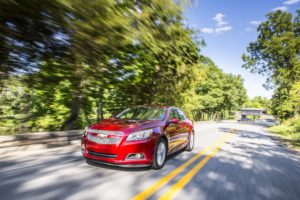 The Malibu Eco and non-turbo Malibus with the 2.5 liter four cylinder are not for the performance-minded buyer.  Word on the street is that the Eco barely sells, while the 2.5 liter is the volume model.  The two "slower" Malibus have a ride and electric power steering tuned for comfort, not handling.  In contrast, the turbo model gets revisions to both of these systems that transform the car from one almost completely lacking in steering weight and feedback to a car that enjoys the occasional back road jaunt.  Handling behavior in the Malibu Turbo is similarly improved, with slightly firmer suspension than is found in the base and Eco models.  Though it's firmer, it's still plenty comfortable.  The Malibu Turbo isn't the segment's handling benchmark, but at least it holds its own during "normal" driving.
Inside, the Malibu's interior is a fairly conventional design, but one constructed of very good materials and with some nice decorative touches such as accent lighting.  It's quite possibly the best among its competitive set.  I was particularly fond of the color palette used by the Malibu's interior designers; choices include jet black/brownstone and cocoa/tan.  For those who are less adventurous, plain black is also available.  It's very quiet inside the Malibu – much better than in its closest competitors, and nearly as good as in some much more expensive luxury cars.  Thoughtful storage cubbies are hidden throughout the interior; the neatest is probably the one behind the navigation screen.
That navigation screen (on models so equipped – it may be just an LCD touchscreen without navigation in some cars) controls the Malibu's Chevrolet MyLink infotainment system.  It's a very good system, and finally brings the Malibu into the second decade of the 21st century in terms of in-car technology.  It offers Bluetooth audio streaming and phone, XM, Pandora, and more – and it's easier to use than competing systems.  Unlike Cadillac's CUE, which tries a bit too hard with flashy graphics that take too long to render, MyLink worked nearly without hiccup.
Really my only interior complaint about the 2013 Malibu is that the back seat does not have enough room.  There's something to be said for GM insisting on 1) differentiating the larger Impala from the smaller Malibu, despite both cars riding on the same platform, and 2) selling the same car around the world as a Malibu in North America is also sold in Australia, Asia, Europe, Africa, and South America.  But GM's economies of scale mean that the Malibu is about three inches short on legroom compared to where it should be.  Three inches may not sound like much, but it literally means the difference between your knees against the front seatback (as mine are in the Malibu, sitting "behind myself") and being able to cross your legs (as I can do in a Passat's back seat).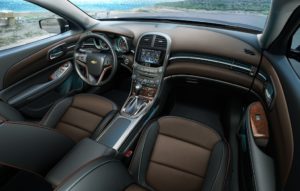 Though the official spec sheet shows no change in legroom from 2013 to 2014, the revised 2014 Malibu has some substantial seating changes designed to improve rear-seat space, but there's only so much that can be done.  Engineers installed thinner front seats, reshaped the rear seat cushion, and lowered the rear cushion.  While we haven't sampled a 2014 Malibu, on its face, I'm concerned about GM forcing rear-seat passengers to sit "jackknife" style with your knees higher than your rear end, just to give shoppers a better perception of rear-seat legroom and headroom.  It was a really, really stupid decision to design a mainstream, family-carrying midsize sedan with a small rear seat.  Even VW's compact Jetta has more combined legroom than the Malibu does.  Chevy's own Cruze – one size class smaller than the Malibu – is not known for its rear-seat accommodations, but has just 1.3 fewer inches of combined legroom than the Malibu does.
I found the Malibu Turbo's powertrain to be a strong point.  The 2.0 liter turbocharged, direct injected four cylinder is refined and spools up quickly with minimal turbo lag.  It's only available with a six speed automatic that did a nice job of selecting the appropriate gear at all times, and instead of shift paddles, you get a wacky shift toggle switch atop the shift lever.   Either paddles, a distinct gate for manual shifting, or both would have been preferred.  The EPA rates this engine/transaxle combination at 21 MPG city/30 MPG highway/24 MPG combined; I saw about 22 MPG during my week with the car in mixed driving.  For 2014, a new 2.0 liter turbo four bumps up torque by 14 percent for more grunt.
Now, if you rarely have need for a spacious rear seat – perhaps you're not as tall as I am (6'4″), or don't have children or friends who would typically ride in the back seat of your car – the Malibu Turbo is an excellent choice.  The car is well-built, drives well, and is reasonably fuel efficient.  It handles well.  It's basically a nice, nondescript car that is nicer inside than you'd expect, and has a smaller rear seat than you'd expect.  For some people, that's exactly what they are looking for.
Chevrolet provided the vehicle, insurance, and a tank of gas for this review.