First Drive: 2014 Cadillac CTS Vsport
Is the world ready for a $70,000 Cadillac CTS?  I'm not so sure, but part of my bias may be that the MSRP on my daily driver, a loaded previous-generation CTS with every option but all wheel drive, was about $47,000 back in 2008 (and I paid about $36,000 for it after employee pricing, GM Card earnings, rebate, etc.)  Nevertheless, GM sold a number of $70,000-plus CTS-Vs over the past several years, and there was a serious gap between the 321-horsepower naturally aspirated 3.6 liter V6 and the monster 556 horsepower 6.2 liter supercharged LSA V8 in the CTS-V that a stronger mid-level engine offering was needed.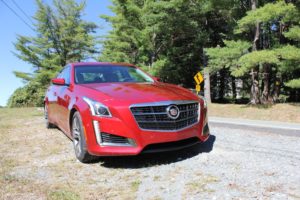 Some folks over the years have clamored for Cadillac to just throw in a non-supercharged 6.2 liter V8 under the hood of the CTS as its mid-level engine offering.  Such an engine would have surely beaten the V's abysmal fuel economy (during a long road trip in 2010, I got about 14 miles per gallon in a CTS-V sedan) and would have been inexpensive to build.  But with competitors offering strong, modern forced-induction engines across their lineups, Cadillac's product planners may have felt that they had no choice but to take a more complicated path to 420 horsepower and 430 lb-ft than a compact, lightweight, pushrod V8 would have meant.
Though it shares a displacement and basic architecture with the previous car's V6 (and the carryover, now-midlevel engine choice; a 2.0T is the CTS's standard engine), the 3.6 liter twin turbo V6 is nearly a clean-sheet design.  Powertrain engineers focused on keeping airflow paths short in the new engine, paying particular attention to the location of the throttle body in relation to the two relatively small turbos.  Boost is 15 lbs., which is actually fairly light in today's world, and turbo lag is nearly nonexistent.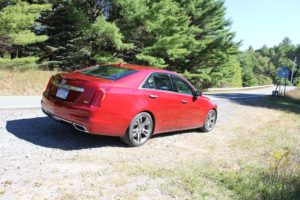 We had a chance for a very rapid back road drive in a 2014 CTS Vsport a few weeks ago, and the car is an absolute hoot to drive.  It takes everything that is right about the ATS – outstanding chassis dynamics, strong brakes, light weight – and applies the formula to a larger car.  It's also a hell of a lot faster than the last ATS we tested, a 2.0 liter turbo four cylinder with a six speed manual.  The CTS Vsport is more than 400 pounds lighter than a BMW 550i, and the weight difference between 1) the new CTS and the old CTS, and 2) the new CTS and its competitors is obvious and dramatic.
Cadillac lightened the car by using the new Alpha platform, shared with the ATS, but stretched some four inches vs. the smaller car.  Most of that length is donated to long-suffering back seat passengers, where legroom was lacking even against BMW's smaller 3 Series sedan (not to mention the near-impossibility of a graceful entry through the tiny doors in the second-generation CTS).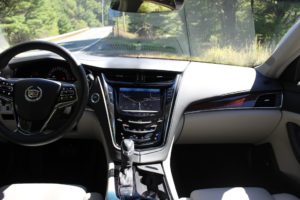 The last CTS was nearly the benchmark in interior quality in its class at the time of its debut, but it didn't age particularly well (I say this with all the love that an owner of that car can muster), mostly thanks to its cheap (but expensive looking) materials and 2007-vintage infotainment technology.  The new CTS has a more convincing fake leather on its dash, still hand cut-and-sewn, real metal where it looks like metal, real wood where it looks like wood, and real plastic where it looks like piano black plastic.
The parlor-trick motorized navigation screen is gone (thank goodness, because I'm getting tired of the squeaking from my car's unit on hot days), replaced by a larger, clearer glass CUE screen with capacitive touch capabilities.  CUE is a step in the right direction for Cadillac in terms of ease of use and features, but its slower processing power leaves something to be desired.  Actions sometimes take a second or two too long before they're confirmed or acknowledged, so you repeat them, only to have it move two radio stations instead of one, or two degrees instead of one in the temperature setting.  Processing power is cheap nowadays, and there's no excuse for going slow and cheap with such a high-profile system.  Plus, the CTS is the fourth Cadillac to get CUE (after the XTS, SRX, and ATS), so by now they should be getting it right, but I don't think there is anything different between the CUE in the CTS vs. the CUE in the XTS I tested a year and a half ago.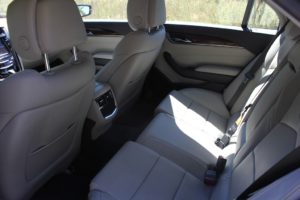 When I referred to this car as a $70,000 CTS, I wasn't being completely honest.  This particular tester was just a standard Vsport, which costs $59,995; the drivetrain and even Pirelli PZero tires are the same, but the $69,995 Premium gets other goodies like a full TFT gauge cluster (instead of a tiny rectangle at the bottom of the cluster in this tester, similar to the ATS's instrumentation).  The Vsport Premium also gets full leather seats (vs. leather seating surfaces), a panoramic sunroof (my tester here had no sunroof), luxury package (heated rear seats, tri-zone automatic climate control, rear sunshade, color head-up display) and more.  You can't get the sunroof with the base Vsport, unfortunately, so if you want something like that, you need to drop the full 10 large onto the top model.  There are no options to speak of on either version, aside from things like all-weather mats and wheel locks.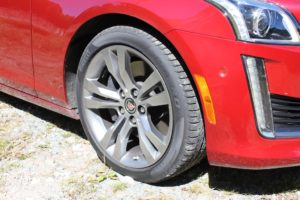 Another new feature in the CTS, though only available with the either of the 3.6 liter V6s and rear wheel drive for the time being, is a new 8 speed automatic transmission.  Eight ratios seems to just about be the price of entry in the luxury-car space these days (we're looking at you, Infiniti (7) and Mercedes-Benz (also 7)), so it's good to see Cadillac caught up in that regard as well.  The unit in the CTS Vsport is well behaved and didn't hunt between gears, while also managing to react quickly to my commands issued via shift paddle.  The car will hold at the rev limiter in manual mode without forcing a shift, which is a positive in my book.
Published reports put this car's zero to sixty time in the mid-4 second range, and I have no reason at all to doubt those figures.  The ZF-sourced electric power steering has good weighting, but still isolates the driver from the road's textures a bit too much.  Cadillac is certainly not alone in that regard, but it's one of the very few ride and handling blemishes in an otherwise outstanding driver's car.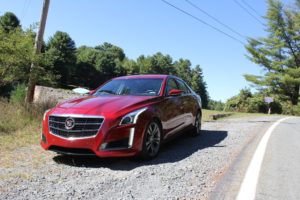 During my all-too-brief 25 minute drive, I sampled the Vsport at both sedate and frantic paces, and the car was comfortable with either.  The engine sounds great (there's a sound tube helping in that regard).  The Pirellis have enormous amounts of grip, such that it was almost difficult to get the tires to break loose on a 75 degree day and all of that torque on tap.
I like this car's looks.  It shows a maturity and more reserved attitude than the previous CTS had when it made its debut, but the front end design is very aggressive, in a good way.  Yes, it's becoming very hard to tell different Cadillac models apart from a distance (my trick was that the CTS's fog lamps are longer and more vertical, while the ATS' were shorter and more squat), and the rear design of the CTS is far less inspired than its detailed front and looks like its designers almost fell asleep at the switch after expending their energy on the front and on the car's flanks, but it's still a looker.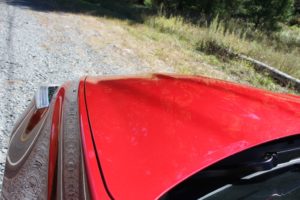 When you read my review of the ATS, you'll see that I crossed that car off my shopping list because it was too slow and too small.  This one is the right size, for me, but it's too expensive.  Frankly, I'd prefer an Audi A6 for this kind of money, and you can get some gizmos in the Audi that aren't available in the CTS at any price (full LED headlamps, night vision, all wheel drive with the top engine, superior infotainment system, better brand recognition).
That being said, the new CTS is an impressive effort on Cadillac's part.  While the pricing is somewhat ambitious, it's also fair, and just shows how far this brand has come in the past 10 years.  Fix a few frustrations (remember, BMW took years to finally get iDrive to the point that people stopped complaining about it), continue with improvements each year, and keep an eye on pricing, and Cadillac may have a real hit on its hands.  Most importantly, this car is the Cadillac standard-bearer.  It defines the design direction, powertrains, and sales success or failure for the Cadillac brand.  It will spawn what I'm sure will be an awesome CTS-V in a year or two, and this car, if successful, will do a good job of setting the stage for a future Cadillac flagship.  Good job, Cadillac – I wish you the best with your new CTS.