Review: 2013 Lexus CT 200h F Sport
Of course, you've seen references to a "wolf in sheep's clothing" many times before.  The idiom actually comes from the Bible, where Jesus said, "Beware of false prophets, which come to you in sheep's clothing, but inwardly they are ravening wolves."  Well, to me, the Lexus CT 200h is the complete polar opposite of that.  It's the anti-sleeper.  It's a sheep in wolf's clothing, and particularly the one that we had for a week to review.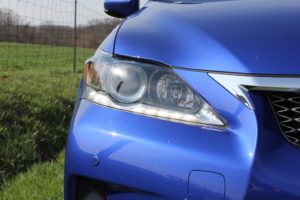 At its heart, the CT 200h is a Prius in drag wearing a Lexus costume.  Actually, the CT shares its platform with Lexus' other dedicated hybrid, the unloved and discontinued HS 250h and not the Prius, but while the HS had the Camry Hybrid's larger engine and hybrid system (and was less efficient), the CT gets the exact same 98 horsepower hybrid system that the Prius gets, for better or worse.  That's good because it gets excellent fuel economy (though not as good as the Prius'), but bad because, well, 98 horsepower and a 3,130 pound curb weight don't generally bring a smile to my face.  Is is a coincidence that the old Charles Atlas magazine ads referred to a 98 pound weakling, when we have a 98 horsepower weakling here?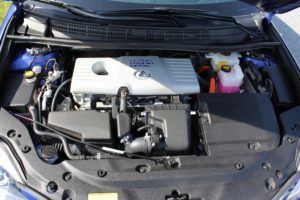 Despite its 98 horsepower, our test car's body, paint, and wheels were writing checks that its drivetrain and chassis just could not cash.  I'm a sucker for blue cars, and years ago, I reviewed a Lexus IS F in the same Ultrasonic Blue Mica paint, with the same dark gray wheels.  To the untrained eye, they almost look like the same car.  I don't need to tell you how absurd it is for the slowest Lexus to attempt to impersonate that second-fastest one, behind only the LFA.  That being said, the paint was gorgeous, particularly in the sun, and the F Sport package did add a few sport appearance touches such as aluminum sport pedals, perforated leather trimmed steering wheel, and F Sport badges.  The F Sport package also adds sport tuned suspension, though I don't believe that it alters the car's stance by lowering it.
Almost as in the Toyota RAV4 Limited that we reviewed last week, the CT 200h's interior makes a decent first impression until you start poking around. Let's cut to the chase:  it's nowhere near the standard set by other models in the Lexus lineup, particularly newer ones like the GS and IS.  The cut-and-sewn vinyl on the dash looks and feels like vinyl, without even trying to be leather.  The seats are covered in "NuLuxe," which does not even attempt to disguise the fact that it isn't leather (it has a strange texture that feels almost woven; it's hard to describe, but simply, it makes a lot of noise when you scratch a fingernail over it).
Atop the dash, beyond the center stack, is the navigation display.  It's power folding and of about average in size and resolution and contains Toyota's usual navigation software, but since this is a Lexus, it's controlled by the mouse-like joystick on the center console.  No touchscreen here – which means no fingerprints but more tedious inputs, unless you happen to be using the voice controls, which work reasonably well.
Aside from the motorized navigation display (which is kind of old hat at this point), the other parlor trick in the CT 200h's interior is the way the hybrid power meter gauge morphs into a tachometer when sport mode is engaged.  It's actually really cool (though also fairly simple, not to mention useless).  The electroluminescent gauges are totally black when not illuminated, so the power meter occupies the outside portion of the gauge and the tachometer is on the inside the same gauge.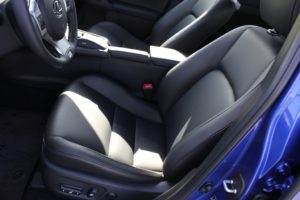 Sport mode is not particularly sporty; it tends to keep the gasoline engine on boil via a lower ratio (not a lower gear, of course; the CT has a CVT and therefore no actual gears) and slightly sharpens throttle response.  Conversely, selecting Eco mode dulled throttle responses and attempted to maximize fuel economy, making the CT feel like even more of a performance laggard.  Finally, there's EV mode available, but you can't actually drive the car in almost any reasonable circumstances on electricity only; think more like tooling along in a parking garage for a fraction of a mile at low speeds (26 miles per hour or less) rather than driving at full speed until the battery is depleted as you can in a range-extended EV like the Chevy Volt.
The steering wheel feels great in your hands and offers a decent amount of weight, but it's strangely isolated from the road.  Don't expect feedback, because you won't get it.  Braking, of course, mixes regenerative braking with friction braking after a certain point in the pedal's travel, and doesn't inspire a ton of confidence, but it gets the job done.  I found the ride to be tolerably firm – certainly the Prius is softer, as are other non F Sport Lexus models – but traditional Lexus buyers may not appreciate the fairly non-compliant suspension.  Heck, who am I kidding?  Traditional Lexus buyers are going to run away from this car anyway, particularly with blacked out wheels and bright blue paint.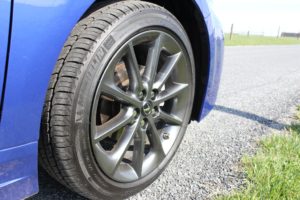 People don't buy cars like the CT 200h for performance, though.  They buy them for fuel economy (or to make a statement about their environmental chops).  In that regard, the CT excels.  In a week of mixed driving, covering over 300 miles (of mostly highway mileage), I had observed fuel economy of 43.4 miles per gallon.  That's actually better than the EPA's ratings of 43 city/40 highway, and uncharacteristically good for me (typically I tend to put the hammer down a little harder than the average driver, all in the name of giving a car a proper evaluation, of course).  It's actually quite hard to get below 40 MPG in a car like this; there's very little that entices you to beat on the car – no visceral reward, only a few fuel economy-calculating displays (navigation screen and in the instrument cluster).
The biggest competition for the CT 200h may be intramural.  Though it's clearly a step up from the Prius in terms of equipment, materials, and yes, even design, plenty of wealthy individuals still choose to drive a Prius instead of a CT?  Why?  Well, the Prius gets 16 percent better fuel economy (50 MPG combined vs. 42), has more cargo space, and tips the scales with a weight about 100 pounds lighter than the CT.  In addition, it costs $3,290 less than the CT when accounting for equipment differences, according to our friends at TrueDelta.com.  In terms of actual, not equivalent pricing, the Prius Five (the top of the line regular Prius) comes in at $5,895 less than a loaded CT 200h.  Most of the time wealthy people get that way by being wise with their money.
I'm actively looking for a fuel efficient FWD or AWD car that's also fun to drive because of my long commute, and frankly, I would not consider the CT 200h for that task.  It certainly is efficient enough, but driving a car with a throttle that responds in a manner similar to my arm when I pinch a nerve while sleeping is not something I'd want to put my own money on anytime soon.  There are other fuel efficient alternatives in the compact-luxury segment to consider:  the Audi A3 TDI comes to mind.  The CT 200h isn't a *real* Lexus anyway, so why not just buy a real Toyota and get a Prius instead of one of these?
Lexus provided the vehicle, insurance, and a tank of gas for this review.