San Diego to San Francisco Via Camaro SS: Taking Advantage of a $50 Rental Car Upgrade
Almost two years ago, I was invited to attend a conference in San Francisco for my day job.  While discussing potential travel plans and sightseeing attractions in the Bay Area with a coworker, she suggested that as part of my orientation to the company that was new to me at the time, I visit our facility in San Diego, since I would already be on the West Coast. Despite being on the same coast of the United States, San Diego and San Francisco are about as far apart as two cities in the same state can be, both geographically and culturally.  I was focused on the geography in this case.
Being a car guy who always wanted to drive the Pacific Coast Highway at sunset, catching the 85-minute flight from SAN to SFO was never a thought.  I'd be driving, and if I was going to be driving, it was going to be in a driver's car.  I had nightmares about sidling up to the Hertz counter at the San Diego International Airport and being offered my choice of a Mitsubishi Galant or Hyundai Accent.  When I spoke with our corporate travel agent to ask if it was possible to upgrade the rental car on my own dime, I was told that it was not allowed – Hertz does not rent premium collection cars for one-way rentals.  I accepted an "upgrade" for $5 per day to a Mitsubishi Galant or similar.  My nightmare appeared to be coming true.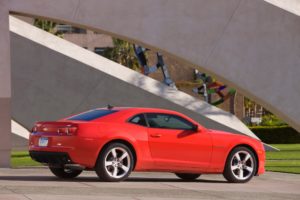 When the morning of my trip arrived, I had to check in at PHL (Philadelphia International Airport) before 5:00 for my 6:00 a.m. flight, meaning I had to wake up at 4:00 a.m.  I'm kind of a morning person, but that was just painful.  I had a surprisingly new US Airways plane on my way to San Diego and the middle seat next to me was empty.  What's more, there was wifi on the flight.  My plane landed more or less on time and I hopped on the shuttle to the Hertz office.
Once in the office, I asked about "fun to drive" cars, thinking I'd at least be able to get something like a Ford Focus.  The clerk said, "if you want a fun car, how about a Camaro SS?"
"I thought you wouldn't rent premium collection cars for one-way rentals?"
"Not true.  We will."
"How much more?"
"Exactly $50 over the cost of the Corolla that your company is paying for."
"Can I pay using two payment methods so the receipts are clean?"
"Absolutely, as long as they're not both credit cards.  You can do credit card and cash, for instance."
I quickly agreed and signed the papers and was off – but first to my company's San Diego facility.  After meeting with the crew there and enjoying an informal lunch of In-N-Out burgers and fries (when in Rome…), I changed to a more comfortable shirt and hit the road around 1:15 PM Pacific time.  My goal was to take I-5 from San Diego toward Los Angeles, hopefully getting ahead of the worst of LA rush hour traffic, then turn west toward the coast via Highway 101, and joining with the PCH to travel as much as far as possible before losing daylight.  It would also be nice to catch a Pacific Ocean sunset while driving along the coast in my rented V8 coupe.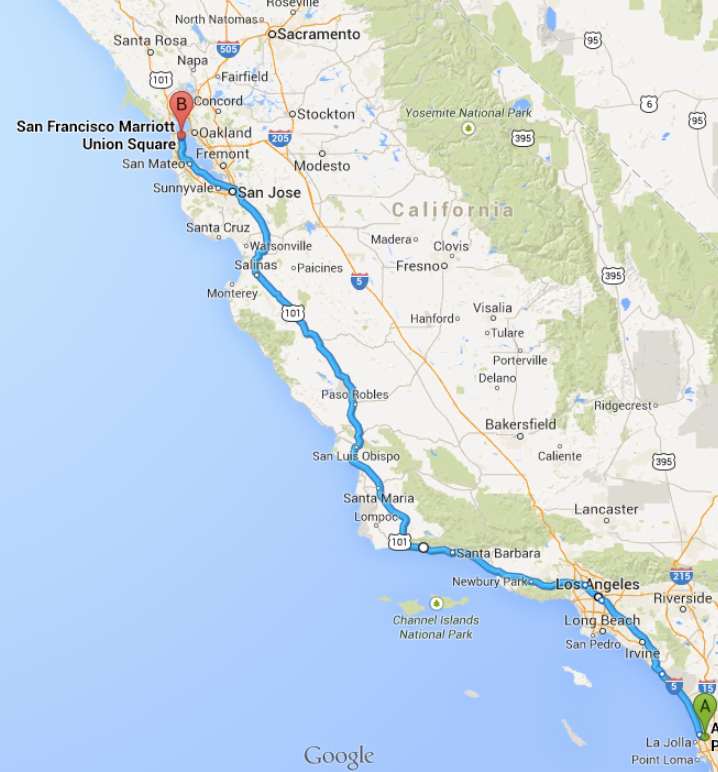 Well, the trip from San Diego to Los Angeles went smoothly.  Using Hertz's abysmal NeverLost tacked-on navigation system (one that I paid a premium for, too) was not particularly friendly; I didn't want the fastest route, I wanted the best route.  I wanted the most scenic route, with the best roads, and preferably on roads that I could drive fast on, without traffic.  NeverLost has a tiny, low-resolution screen and accepts inputs only via a directional button below the screen.  Now that it's 2013 and I'm a disciple of Waze (and the real Google Maps is available on the iPhone) I hope I never, ever have to use NeverLost again.
Right past downtown LA, still on I-5, I hit my first real traffic around 3:30.  Not cool.  The sun was already heading toward the horizon and I was only just turning on to the 101.  NeverLost was screwing me, trying to get me to do U-turns and change my route away from the intended path I had established mentally using Google Maps prior to my trip.  Eventually, I made it to the 101 where that road splits off of I-5, soon to become the Hollywood Freeway.  Still, my goal was not to drive a 400-horsepower muscle car in traffic on a freeway.  I kept making slow progress.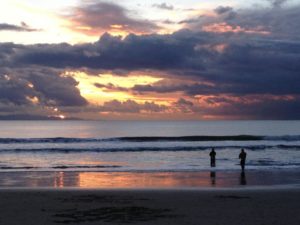 Eventually, around the time the 101 turns from a northwest direction to head almost due west and becomes the Ventura Freeway, it was around 4:30.  I had just 90 minutes remaining until sunset, and I hadn't seen the Pacific since I-5 turned inland around San Clemente, south of Los Angeles.  Fortunately, traffic got lighter as I moved further north of Los Angeles, and by 5:10, with 50 minutes of sunlight remaining, I finally reached the PCH just before Santa Barbara, and stopped at Emma Wood State Beach to check out the ocean.  (I would have never remembered the times, or even the name of the beach, had I not checked in there with Foursquare.  Phew!)
I hopped back in the car and rumbled along the coast for about an hour, until I reached Gaviota State Park.  The records show that I was here at 6:14 PM, and my comment says, "Sunset pics!"  Unfortunately, I can't find any of the photos I took at either beach other than one overly-filtered one I posted on Instagram, so there's no sunset, no pics, and not much physical evidence that I did this trip.  (This photo is not mine; a Foursquare user shared it).
Except for the fact that I do have Foursquare check-ins nearly 500 miles apart, and that one shot of a Camaro SS with Nevada plates, that is.
The records show that the official sunset time in Los Angeles on November 1, 2011 was 6:00 PM, so I clearly was working on borrowed time if I hoped to see more of the Pacific while driving.  I was so worried about LA traffic when thinking about this trip that I didn't bother to consider the fact that between the beach towns North of Los Angeles, there really is almost nothing between LA and San Francisco.  (I think of it as California's version of the flyover states.)  Plus, not having much sleep the night before, having flown cross country that morning, and with a 500+ mile drive ahead of me, the notion of tooling along at 35 or 40 miles per hour along the PCH when I could no longer see the ocean didn't really appeal to me.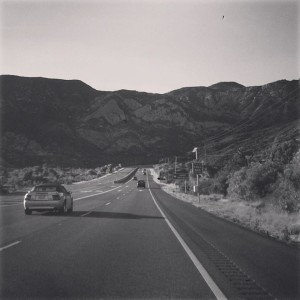 So, I decided to again listening to NeverLost and followed Highway 101 for almost the entire remainder of the trip.  As I traversed the no-man's-land between LA and SF, I looked to my left several times and was struck by the blackness.  I didn't know if I was looking at unpopulated mountains, the Pacific, or some other form of nothing, but I literally could see nothing for much of the trip.  Good thing I only had another five hours of this ahead of me.
The upside of these deserted highways (which were awfully straight and awfully wide, not to mention awfully empty) was that my concerns about a 500 mile drive at 40 miles per hour were unfounded.  At one point, around 9:00 PM, there was not a soul around, and I decided to see what the Camaro could do.  I white-knuckled my way to 140 on the head-up display before thinking about just how stupid something like that was.  Had I hit an animal, object on the road, or unexpected curve – or even experienced a tire failure – I would have died, and it may have been hours until someone found me.  Of course, the adrenaline did jolt my system to a higher state of alert after thinking about what I had just done.
Around 10:30, I got to the outskirts of San Francisco, and topped off the Camaro's tank at a gas station by the airport for my second fill-up of the trip.  Overall, I got about 19 miles per gallon; not bad considering 400 horsepower and a lead-footed driver.  Plus, I had been in LA traffic for almost two hours.  I found my hotel, but before parking the car (which I would return first thing the next morning when the Hertz office opened), I cruised around the city a bit.
It was my first time in the Bay Area, and I wanted to quickly take in some sights.  I managed to drive along the Embarcadero, saw Fisherman's Wharf, got a glimpse of the Golden Gate Bridge and the Bay Bridge, then noticed Lombard Street on the navigation screen, so I had to give that a try.  Unfortunately, you aren't supposed to turn left from Hyde Street onto Lombard (it's always backed up during the day, but this was around 11 PM), so it took a bit of driving around aimlessly until I figured out how to approach from the correct direction (it's one way downhill).  The giant Camaro with its awful visibility is quite possibly the worst vehicle to drive on Lombard this side of a food truck.  I was convinced that I'd run into someone's hedge or scrape a curve, but the Camaro and I both survived unscathed.
I headed back to the Marriott, paid the exorbitant parking fee ($58.14 today; not sure what it was in 2011), checked into my room, finally falling asleep about 22 hours after waking up in my bed at home.  I slept well that night, but as usual, not long enough.  The opening breakfast for my conference began at 7:30 and the opening keynote was at 8:00, and I still had a rental car to return.
I headed to the Hertz office, handed my corporate card and a $50 bill to the attendant, and my adventure was complete.  Am I glad I did the drive once in my life?  You bet.  Would I ever do it again?  Probably not, at least in a single day, with most of the drive happening in darkness.  Do I regret spending an extra $50 to get a Camaro SS for that drive instead of a standard rental car?  Heck no.  I'm a car guy, after all.
Forgive the lack of actual photos of my adventure; like I said, this was almost two years ago, and I can't track down my photos from that time.  Darn computers.
My company paid for half of the Camaro and all of its gas, while I waived all optional insurance coverage offered by Hertz.