Review: 2013 Toyota RAV4 Limited AWD
It seems like almost every time I turn my had in traffic, I see a Toyota RAV4, regardless of the generation.  When I last had the opportunity to spend a week in a RAV4, it was a 2009 RAV4 Sport with the strong 3.5 liter V6; though I wasn't thrilled with the looks and interior quality of that third-generation RAV4, it was perhaps the lightest vehicle that Toyota installed the 3.5 liter V6 into; not surprisingly, the little crossover was very quick.  Fast forward to the 2013 Toyota RAV4, and an all-new fourth generation RAV4 is on the market, and I'm already seeing them everywhere.  The V6 is gone, but there's a new, larger and more powerful four cylinder engine, and both the interior materials and design and the exterior design have been upgraded.  It was time to re-visit the RAV4.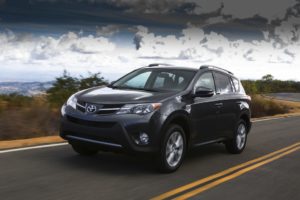 The first thing you notice about the 2013 RAV4 is that it no longer has the giant rear-mounted spare tire.  That vestige of SUVs of the past is no longer necessary, and was a hindrance to cargo access and rear visibility.  (Interestingly, the 2009 RAV4 that I reviewed back in the day had run-flat tires rather than a rear-mounted spare, but that was the exception, not the rule back then).  The spare now resides under the cargo area, as spare tires do in nearly every other crossover.
The design has been sharpened considerably, and I mean that in both the literal and the figurative sense.  The last-gen RAV4 was doughy and soft looking with nary a sharp corner to be found; the 2013 model boasts hard edges around the grille, headlamps, taillamps, and fenders.  The result is a more aggressive look; after all, we can't have our soft-roaders look anything but butch, right?  In all seriousness, the new RAV4 looks enough like a RAV4 to maintain some family resemblance to its predecessors while managing to look fresher and newer.  It was time for a change.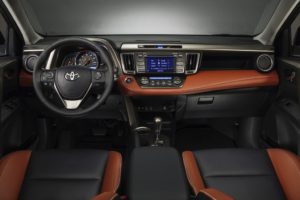 Inside, the 2013 RAV4 makes a great first impression.  In our top-of-the-line Limited tester, we were greeted by what at first appears to be a leather-wrapped dash:  stuff that was formerly the domain of ultra-premium luxury brands a few years ago.  Upon closer inspection, though, you notice that it's not leather – it's vinyl – and thanks to some visual trickery, it takes a moment until you realize that the upper dash, most of the door panels, and the lower dash are all covered in hard, black plastic.  Just the center section is covered in the funky rust-orange padded vinyl with contrasting stitching.  The stitchery trickery continues even on the horn button, which appears to have a sewn leather cover, but it's just fake stitching.
Visibility both forward and laterally is very good; you get a nice vantage point of your surroundings thanks to the elevated ride and fairly large window area.  Even the A-pillars aren't too thick.  When it's time to back out of a parking space, however, the report card is a bit mixed.  The good news is, the aforementioned move of the rear spare tire to a well in the cargo area eliminates that obstruction.  The bad news is that the stylish D-pillars continue with an upswept shape that maintains a family resemblance to old RAV4s but also make a large blind spot.  Our tester had navigation and displayed its backup camera output on the screen to help a bit more with rear visibility.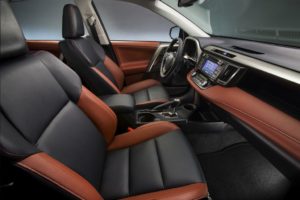 The 2013 RAV4's seats are both comfortable and supportive.  While we didn't spend any particularly long stints behind the wheel, we did spend several collective hours in the RAV4's driver seat, and never felt ass fatigue.  Really, what more are you looking for from your daily driver's seats?  Unusual for a smaller car (but not for a RAV4), the rear seats offer copious amounts of legroom.  When my children were babies, I remember paying close attention to rear-seat legroom specs, and being surprised that the RAV4 had the legroom numbers of a larger vehicle.
In-car technology checks all of the boxes that are expected to be checked by a new top-of-the-line trim for a mainstream car in 2013.  The test vehicle had the $1,660 Display Audio with Navigation, Entune, and JBL option.  The system features a 6.1 inch touchscreen display that is among the worst I've used in years.  It's easily washed out by sunlight, the text is almost blurry and lacks contrast, and the system doesn't respond particularly rapidly to inputs.  It also takes a few steps backward from Toyota's navigation systems of even several years ago in terms of ease of use.  For instance, there is no button to directly access navigation. (I didn't even realize that this RAV4 had navigation for the first few hours I was using it).  To get it, you have to choose navigation from the Apps menu.  The map that you get is small and lacks detail.  The JBL speakers (all 11 of them) sounded fine and the system paired with my iPhone via Bluetooth very easily.  Unfortunately, Toyota needs to work much harder on Entune to make it a true "gotta have it" feature; at this point, I might as well delete the app from my phone and just choose my own audio, then stream it via Bluetooth.  Entune is slow and clunky.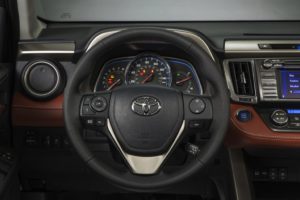 On the road, though the loss of the V6 obviously slows things down a bit, the RAV4 has no trouble keeping up with traffic thanks to its 2.5 liter 176 horsepower 172 lb-ft four cylinder powerplant and 6-speed automatic transaxle.  The 2013 RAV4's four is larger and more powerful than the old RAV4's base engine, and although it's well behind the old 266-horsepower V6 in power an torque, the extra gear ratio helps a bit.  It's not the enthusiast's choice, but it's more than adequate for a normal person's typical needs.  There are both Eco and Sport modes available by pressing those respective buttons on the center console; Sport sharpens the throttle response somewhat and alters shift points while Eco dulls throttle response and moves shift points earlier.  Frankly, I just drove it in Normal most of the time.
Holding such a meaty-looking, faux-leather-wrapped steering wheel, you might think that the RAV4 has some sporting intentions.  Not really, though steering feel is improved vs. the previous generation, to the point where it's around the class average and no longer the class laggard.  Brakes were solid but unremarkable, and we found the ride quality to be a bit on the firm side (some more sensitive butts might call it rough).  I didn't mind it, and the interior is very isolated from wind and road noise.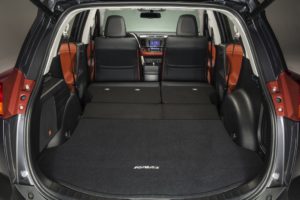 During my week with the RAV4, driven mostly at highway speeds, I observed fuel economy of 26 MPG combined.  The EPA says that it should get 22 MPG city, 29 MPG highway, 25 MPG combined, so I was right on target (uncharacteristically so).  As with other Toyota vehicles equipped with the Limited trim level, the RAV4 did not require many options to be fully equipped.  From a base price of $28,410, our tester added the $1,660 navigation/JBL/Entune radio, $500 blind spot monitor with cross traffic, and $499 remote start (first time I've seen that common GM feature in a Toyota), plus destination for $845.  The total MSRP rang up at $31,914.  That's not cheap, but it's about par for the course for this class.  For instance, our friends at TrueDelta.com say that when accounting for equipment and feature differences, the RAV4 Limited is $871 less expensive than a Hyundai Santa Fe Sport.
The RAV4 has a lot going for it; a decent driving experience, Toyota dependability, excellent forward visibility, a small (easy to park) footprint, and good fuel economy.  I'd probably feel comfortable having my wife drive our children around in one, despite the misstep with the "poor" rating in the IIHS small overlap crash test.  (To be fair, the less overlap, the tougher it is for a vehicle to protect its occupants).  It may not be my favorite small crossover (that would probably go to the Hyundai Santa Fe Sport, which has a nicer interior and a more powerful base engine, plus an optional 2.0 liter turbo four cylinder) but it's good enough to see why it's a default choice for many buyers.
Toyota provided the vehicle, insurance, and a tank of gas for this review.