Capsule Review: 1989 Chevrolet Suburban 1500 4×2
In case you're wondering, I have a strange obsession with Chevrolet Suburbans. Not enough to actually buy one and schlep my family around in it, mind you, but as I've noted before, the Suburban plays an important role in my automotive upbringing.  For most of my formative years, the Suburban was the family hauler of choice from my parents' point of view.  Sure, we detoured to the occasional custom van (groovy!) and even the occasional sedan (1988 Oldsmobile Touring Sedan, anyone?), but the Suburban was the benchmark against which all other vehicles my family used were measured against.  We always ended up coming back to the Sub.
Over the years, my family owned several (my father was, and is, in the used car business, and car ownership was always sort of a nebulous concept for the Haaks).  As a twelve year old in 1987, my parents were pondering the purchase of our first brand new Suburban, which they did when they ordered a 1988 Silverado 4×4 with every option (but rear air conditioning, due to the salesman's error) and with rally wheels.  Funny enough, at the time we got that first new Suburban, my dad's daily driver was a reasonably-nice brown 1977 Suburban half ton with a factory 454 and a disturbing habit of going into vapor lock.  A half decade earlier, we'd trekked from Pennsylvania to Florida in a 1978 Suburban 4×4, and a few years before that, did the same trip mit travel trailer in a 1973 Suburban that looked a lot like the photo – copied here on the left – I threw in my 2012 Suburban review a few months ago.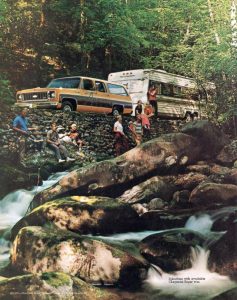 It was in that 1977 Suburban that I had my first stint behind the wheel of a running car that actually moved more than a few feet.  I was still thirteen, and I talked my dad into letting me drive it from one spot at the local fairgrounds to another that was still on private property, but a bit over a quarter mile away.  Then, when I turned 14, my dad followed the precedent set by other parents at my local [rural] Boy Scout troop and allowed me to drive the entire length of the stone-covered lane from the public road to the clubhouse structure where we had our meetings.
So, though I haven't spent a lot of time behind the wheel of 1973-1991 Suburbans, I spent plenty of time in the back seat as a kid, and in the front seat as a passenger over the years.  It had been a while, though, so when I had the chance to take this one for a spin, I couldn't pass it up.
Though the interior in this Scottsdale-spec (mid-level) Suburban was not exactly what I was accustomed to (ours were all top-end Silverados), everything was exactly where I remembered it being.  I definitely remembered the two-spoke, thin-rimmed steering wheel with deep grooves for your fingers (but forgot just how awful it was to hold!) as well as the painted metal throughout the interior.  Nowadays, I complain about hard plastic; this guy had a padded dash (which always eventually cracked) and an entire lower dash painted in body color sheetmetal.
This particular Sub had air conditioning and cloth seats (three-across benches times three rows), but manual crank windows.  I haven't driven a car with those in years; the last modern car I drove with hand-crank windows was the 2009 Corolla S.
Per spec, this Scottsdale had color-keyed vinyl floormats rather than the carpeting of the Silverado.  The lower door panels were, again, painted metal rather than the carpeting in the higher-spec Suburbans.
I was most amused by the way GM just tacked things on to the basic 1973-vintage  design to update the Suburban for the times as best as it could.  For instance, because the 1973 model pre-dated power tailgate windows, there was no provision for a switch when it was added.  The solution?  Wedge a side-to-side rocker switch between the instrument panel and giant cigarette lighter opening on the lower dash.  An unlabeled side-to-side switch to control something that goes up-and-down?  But of course.  The tailgate's window was un-tinted, unlike the other rear windows in this truck.  It's not because it had a rear defroster, either – just plain glass.
The other very obvious tack-on were the outboard three-point seatbelts for the rear seating positions.  My family's 1988 Sub did had only lap belts except for the front outboard seats.  This one had giant softball-sized mechanisms bolted to the ceiling for the tacked-on belts that looked ridiculous.  Heck, even the third row seat itself looks like an afterthought; with the seat removed, the floor is completely flat with no hint of a seat or a place where passengers may want to put their legs other than anchor holes.  With the seat installed, third-row passengers have no choice but to sit jackknife style, with their knees in the air and a 45 degree angle between their legs and abdomen.
Back in the day, Suburbans were not available with a top-hinged hatch (most likely, gas struts weren't strong enough to lift a several hundred pound door back then).  Everyone who had a Suburban knew that if you were going to tow, you had to go with the rear panel doors (also known as "barn doors") if you were going to tow.  The reason?  The tailgate was very heavy, and when lowered, it slammed right into the top of the trailer's jack.  Also, shorter people couldn't reach into the front of the cargo area, even if there was a third row seat, because of the huge tailgate.  So, this one must not have been owned by a serious trailer tower, since it had the tailgate.  When I rolled down the tailgate window and walked to the back to inspect the cargo area, I was amused that despite not being able to see  the inside tailgate latch (and there being no labeling), I still had the muscle memory to know exactly where to reach for it.  Inside, about a quarter of the area behind the third seat is consumed by a giant spare tire, covered in thin blue carpeting so you don't notice it.  It's amazing that the engineers in the 1970s couldn't find a place to put a spare tire underneath a truck that's 219 inches (18 feet, 3 inches) long.
But you know what?  I put the square-head key (the oval-head one operated only the doors, of course – something else that I'll never forget) into the ignition, pondered for a moment as to whether I'd have to open the choke until I remembered that throttle body injection had arrived two years earlier in the Suburban, and turned it.  The 5.7 liter (350 cubic inch) V8 fired to life immediately and settled into a fairly fast idle.  Most older Suburbans, including this one, lack a tach, but it was clear that idle was over 1000 RPM, and remained there even after I returned from my drive.
I grabbed the extremely skinny column shifter and pulled it into OD (the fact that this relic had a four speed automatic, and a 2007 Suburban did as well, is a bit scary).  I gently pulled away under the pleasant burble of V8 exhaust coupled with the unpleasant exhaust smell of a vehicle not held to contemporary emission standards any longer.  Its recirculating ball steering was slow and leisurely, but it's exactly how I remembered it.  The radio worked and the air conditioning blew cold air.  The brakes weren't mushy and didn't lock prematurely (no ABS in this one – that was a few years into the future for the Suburban).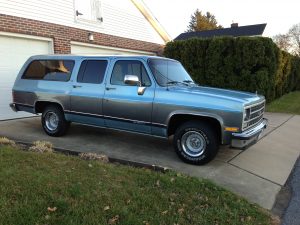 Actually, what I found most shocking about the driving experience was the complete lack of power.  I checked the spec sheet online; the 5.7 liter V8 in the Suburban produced 210 horsepower and 300 lb-ft of torque.  Granted, by lacking comfort and safety equipment, this is certainly lighter than a modern Suburban, but when modern four cylinder turbos routinely out-power (and nearly match the torque) of your V8, that's what a horsepower deficit feels like.  That my parents were able to tow a 7,000 pound (when loaded) car trailer behind a similarly-equipped Suburban just shows how expectations have changed.  I said that the 320-horsepower 5.3 liter V8 in the 2012 Suburban felt underpowered; this redefines 'underpowered.'  Flooring the accelerator changes the soundtrack, but in looking down at the 85 MPH speedometer, it's clear that you're not going to win any races in one of these.  I haven't mentioned that GM's current 6.2 liter V8 in the Yukon XL Denali and Cadillac Escalade – modern descendants of this Suburban – produces nearly double its horsepower, at 403 ponies.
So what exactly would someone do with a low mileage, 24 model year old Suburban that lacks nearly every modern convenience and needs a serious horsepower infusion?  Two words:  Big Block. The old Sub already has a nice stance, and putting a big block crate motor under its large hood would make it a much sweeter ride.  It would be fairly easy to install the nicer door panels from a Silverado, as well as the nicer dash (with super-fake wood instead of genuine black plastic).  The trick would be in installing power windows and locks, which are almost essential in something as big as this.
I often look back fondly on my childhood.  It was a good one.  It's great to get the chance to delve into reality to see if memories match it; in this case, it more or less did, but I, for one, am certainly glad that I can drive now, and not then.
Now, if you'll excuse me, I have somewhere to go in my 266-horsepower Sienna minivan.
Note:  Here's a link to 1989 Suburban brochure from the Old Car Manual Project.