Rare Vehicle Sighting: 1973-78 GMC Motorhome
While on vacation at the beach in Delaware this past week with my family, we obviously happened to see many different sizes and types of RVs – large and small, old and new, Class A and Class C motor homes, and travel trailers.  But the one that we saw on our last evening at the beach was unique enough to inspire me to write about it.  It was a nicely-restored 1970s GMC Motorhome, and I was immediately reminded of how fond I've always been of these unique vehicles.
The GMC Motorhome showed the creativity and forward thinking that made GM the market leader in the US for most of the 20th century.  Troublingly, it also sold in relatively small volumes and is rumored to have not made money for GM during its six years in production.

Design and engineering work on the GMC Motorhome began in 1970, and the prototype was displayed for the first time in spring 1972, with a 1973 model year on-sale date.  Although its configuration was (and still is, in large part) nearly unheard-of in the RV industry, the Motorhome utilized many areas of GM's in-house expertise and existing components.  For example, it was front wheel drive – unlike other motorhomes – with a front suspension design and drivetrain borrowed from the Oldsmobile Toronado.  The Toronado also donated its 455 cubic inch V8 engine.  The front wheel drive configuration was a pretty intelligent way to improve both space efficiency (no need for a driveline tunnel or truck-based ladder frame) and handling performance (the rear wheels were attached to independent swing arm suspension, which allowed engineers to lower the vehicle's center of gravity significantly compared to a standard motorhome.)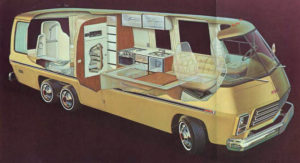 Pitting the old GMC's spec sheet against a Dodge Sprinter-based Class C 2009 Fleetwood Icon 24 foot RV is an interesting exercise.  The GMCs were available in 23 or 26 foot configurations and were 8′ 1″ tall without a roof air conditioner, and 9′ 2″ feet tall with the air conditioner.  The 2009 Icon is 11′ 4″ tall with a roof air conditioner.   The GMC was 96″ wide, while the Icon is 91.5″.  Finally, the 23′ GMC had a 140″ wheelbase, the 26′ GMC had a 160″ wheelbase, and the 24′ Fleetwood Icon has a 170″ wheelbase.  The bottom line on the measurements is that the GMCs ride far lower to the ground than does a modern RV, yet probably handled decently well with their wider track and independent suspension.
The body of the GMC Motorhome was a combination of aluminum and fiberglass-reinforced plastic (similar to what has been used in the Corvette) for a rust-free body.  The interior was available in multiple configurations, but at its most fundamental level, the GMC Motorhome was meant to be more about the journey than long-term camping comfort.  The upside of this decision was that the Motorhome had giant expanses of glass area that made the vehicle really easy to see out of (for an RV), but the downside was that they were fairly short for motorhomes, and original configurations did not have permanent sleeping areas.  Instead, other furniture (such as the dinette) had to be converted to a bed each evening.  Also, as originally configured, the GMC Motorhome had only an automotive-grade battery that lasted only a short period before needing a recharge; a deep-cycle marine or RV-type battery would have given longer battery life.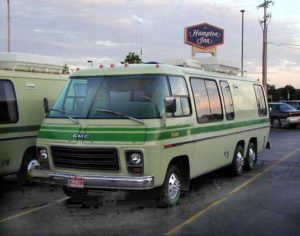 The now-iconic shape of the GMC Motorhome, to my eyes, has aged extremely well.  Without knowing that it's a design that the public first saw in 1972, and in an example that was renovated to eliminate the 1970s color schemes, it's easy to believe that it boasts a more modern shape than many current RV offerings do.  The cylindrical shape likely helps somewhat with crosswind mitigation, but also serves to cause some interior space compromises.  Likely because of the longevity of the body shell (and the Motorhome's aluminum body framing), many owners have chosen to upgrade their Motorhomes to modern specifications.  Based on a quick scan of the cell phone photo that my wife took of this particular GMC, I'm guessing that it has gone through the upgrade treatment.  The color scheme looked more 1990s than 1970s, it had later-model taillights (which screw into the original openings perfectly), and it had a satellite TV dish on the roof.  Of course, I couldn't see the interior, but I'm assuming that if its owner bothered to install satellite TV and a full exterior rejuvenation, that the interior was also brought up to modern standards.
Over the Motorhome's six-year model run, 12,921 units were produced.  It is estimated that between 8,000 and 9,000 of them are still on the road today, many of which have shed their 1970s-style avocado green exterior striping and interior trim for something more contemporary, as did the owners of the example that I spotted while on vacation.  (N.B. – the avocado green motif was just one of many color palettes available, though perhaps no color better illustrates 70s fashion sense – or nonsense – than it does).
In the past few weeks, we've chronicled some of the vehicles – like the Chevrolet Vega and Oldsmobile Diesel – that were some of the main reasons GM wound up in bankruptcy court earlier this year.  It's heartening to see that, even in the malaise era of the mid 1970s, GM was still building some cool vehicles – even if they didn't make the company any money.
Note: Thanks to gmcmotorhome.com for much of the historical information used above.