Review: 2014 Scion tC
Toyota's Scion sub-brand has been struggling since the auto market crashed during the Great Recession.  Sales are about a quarter of their pre-recession peak, and the best-selling Scion model, the tC, had fewer sales (19,094) during 2013 than did the slowest-selling Toyota car model (Yaris, 21,342).  Members of the inaugural Scion buyer demographic class (those who were 22 years old in 2002) are now in their thirties with children, families, and better jobs, and don't want a brash, quirky car.  Scion's buyers have grown up, and the brand must grow up with them.  We spent a week in Scion's updated-for-2014 Scion tC to get a feel for whether the car's [mostly cosmetic] updates can keep it atop the Scion sales race.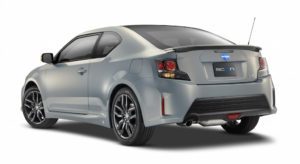 Let me begin by saying that the tC is not Scion's best model, although it is reasonably fun to drive.  My favorite Scion is by far the FR-S, but that car is not practical for more than two people.  The FR-S is hard to get into and out of, and it has a notchback with a discrete trunklid rather than a hatchback as in the tC.  The FR-S is also more expensive than the tC by a sizable $6,533 when using TrueDelta.com's pricing comparison tool and accounting for equipment differences.
Is the price premium of the FR-S worth it compared to the tC?  If you never need a back seat, then yes, it probably is.  If you routinely need to actually put a human into the back seat of your car, and you just have to have a two door Scion, the go with the tC.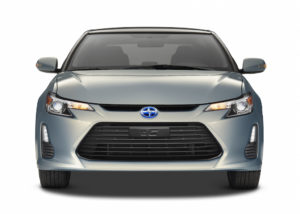 Last completely redesigned for the 2011 model year, the tC rolls into 2014 with only a minor, mid-cycle update to tide the car over until its next full redesign.  Exterior changes are limited to the front clip (which is entirely new; it now boats angrier-looking headlamps, a hood that dips lower, and a new rear bumper with a gray diffuser.  The tC was always the most mature-looking member of the Scion lineup, but it may be trying a bit too hard with the changes, which make the car look a bit boy racer-ish.  My test car was also equipped with TRD 19″ alloy wheels and tires with locks (a hefty $2,199 option) and TRD performance exhaust (a $699 option).  I'm not sure how tCs are typically equipped "in the wild," but I believe that every Scion press car I've ever reviewed (except for the tiny iQ) has been equipped with TRD exhaust.  It definitely adds to the car's sporty character and does manage to avoid droning at highway speeds, so I'd probably go with that option in the event I'd find myself buying a Scion.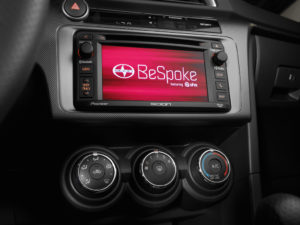 Inside, the changes are mainly cosmetic, with improvements to the interior materials (the change is imperceptible vs. my memory) and a few changes to colors and fabrics.  A 6.1″ diagonal touchscreen display is now standard on the tC, and our tester was equipped with the $1,198 BeSpoke premium audio package with navigation and Aha Internet radio.  The display is fairly low resolution and the map refreshes slowly.  On the bright side, this radio was the easiest-to-use Scion radio I've ever encountered; the Pioneer aftermarket-spec head units found in past Scions were ergonomic nightmares.  Bluetooth pairing with my iPhone (which handled both handsfree phone and streaming audio) was a snap, and I got no complaints from folks on the other end of the line about audio quality over Bluetooth.
Of course, you're probably more interested in learning more about how the car drives than how it looks or sounds. In this category, the tC falls short of the standards set by its rear wheel drive brother, the FR-S. That being said, the tC is very easy to drive. Were it not $24,837 (including destination), it would be a great car in which to teach your child how to drive a manual transmission. The tC has an easy-to-modulate, linear clutch and a fairly direct shift linkage for a cable-actuated unit. The TRD performance exhaust seems to offer mostly bark rather than bite, yet the large 2.5 liter four cylinder engine serves up torque that surpasses the FR-S's 2.0 liter unit's offering, with 172 lb-ft and 179 horsepower. The low-end torque, coupled with the manual gearbox, allows you to keep the tC in the thick of its powerband most of the time without much trouble, and it's an ideal configuration for normal puttering around town and through traffic – all the way to, say, 6/10ths driving. Beyond that, get an FR-S or another car.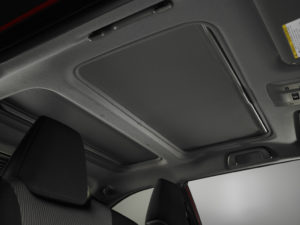 The tC's sporting intentions (pretensions?) are on full display with its meaty, flat-bottomed steering wheel. No longer solely the domain of race cars, flat-b0ttomed wheels have officially gone mainstream. Though it's kind of ridiculous to have such a wheel in a 187-horsepower hatchback, it really is sweet to hold, and really does look quite good in the car. Scion spent money in unusual parts in the tC, but most of them happen to be those spots that come into regular contact with the driver – namely, the pedals, steering wheel, and seat structure. The electric power steering pump attached to that fancy steering wheel, however, does kill some road feel. That's kind of expected nowadays, though, right?
As the tC is not exactly a performance car, its brakes are nothing spectacular. That's OK. Seriously, who takes a tC onto a racetrack, needing giant, expensive, heavy brakes? The brake pedal, like the clutch pedal, is easily modulated. I experienced no issues with the brakes during a week of driving fairly tamely. The car's suspension tuning is firm, not harsh. It worked well for someone my age (39) and with my priorities, but some buyers may find it a bit too firm. If it's not firm enough, Scion will gladly sell dealer-installed suspension upgrades.
In a week of mixed driving, covering nearly 400 miles, I observed fuel economy of 26 miles per gallon – right in line with the EPA's combined rating (the city rating is 23 and highway is 31). That's not spectacular for a car powered by a four cylinder engine rated at less than 200 horsepower, but at least it runs happily on regular unleaded.
The tC would be an awesome car if it were $5,000 cheaper. But I have trouble with a car that has a hard plastic interior and cloth seats, and an asking price of nearly $25,000. It's not really a performance car, but it kind of looks the part, it has a more practical back seat than the penalty box in the FR-S, and will probably run for 20 years before its wheels fall off. For some, that's the definition of a perfect car. For me, I'll look elsewhere for perfection.
Scion provided the vehicle, insurance, and a tank of gas for this review.