Review: 2014 Lexus IS 350 AWD
I've always enjoyed driving the Lexus IS, certainly much more so than other Lexus models.  ES?  RX?  Pshaw.  Though I've never owned one, I have gotten close to doing so twice, only to have the purchase vetoed by my ever-sensible wife.  Does the all-new third-generation 2014 Lexus IS 350 AWD finally appease my wife's reservations?  Read on to find out.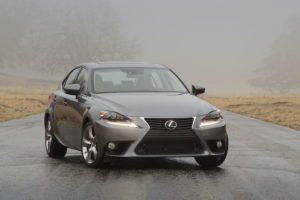 My personal history with the Lexus IS dates to when my father spent an inordinate amount of time at the local Toyota/Lexus dealer in the early part of the last decade snapping up most of their low-mileage domestic-branded trade-ins for his used car lot.  I loved the first IS – it was very un-Lexus-like, with its compact dimensions, athletic proportions, and quirky chronograph-style instrumentation.  Here in the U.S., it had a smooth-running inline-six as its only engine choice, and it was available with a 6-speed manual transmission.  My wife and I test drove a 2003 model with the 6-speed and I loved the way it drove, but she pointed out that the car was about the same size as a Honda Civic, and we'd need something bigger if we were to ever start a family.  I bought a Honda Accord EX-L V6 instead.
Fast forward a few years to when I was ready to replace the Accord, and I started looking at the second-generation IS, which was available with a 306-horsepower 3.5 liter V6 and all wheel drive (though the two were not available together).  I happened to have a Lexus IS 350 press car in spring 2008, and the 20-mile roundtrip that we took in the car to Lowe's with a toddler and infant in the back seat was a complete disaster.  The car seats barely fit into the cramped back seat, and in order for the rear-facing infant carrier to fit behind my 5'11" wife, her seat was adjusted to the point that she was dangerously close to the dashboard.  I believe she said something to the effect of, "don't ever ask us to ride in this car with you again."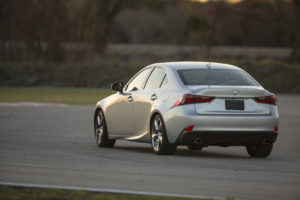 One thing I did really like about that 2008 IS 350 was its immensely strong acceleration.  It was – and is – a fairly light car (3,527 pounds for the 2008) and the 3.5 liter V6 was a strong and willing partner for the smallest (at the time) Lexus.
I'm happy to report that the 3.5 liter V6 and 6-speed automatic that served in the 2008 IS 350 remain intact, nearly unchanged, six years later in the 2014 model.  They are just as strong as ever (though no stronger – the engine is still rated at 306 horsepower and still requires premium fuel, while the Cadillac ATS 3.6 makes its 318 horsepower on regular unleaded).  Floor the go-pedal and the IS 350 quickly kicks down a few gears and takes off like a bat out of hell.  Triple digits are but a few seconds away; it's very easy to behave very badly in this car if you're not on guard for that sort of behavior.  I had two disappointments with the powertrain:  economy and refinement.  I observed about 20 MPG combined; the EPA says 19 city/26 highway/21 combined, so I was right on track, but given that a Chrysler 300 V6 is rated at 31 MPG highway, I expected better from Lexus.  An 8-speed automatic would certainly help the IS, so perhaps one is in the car's future.  My gripe about powertrain refinement pertains solely to the engine's sounds from 5,000 RPM to the 6,250 RPM redline:  it's a booming, coarse sound, and it's unbecoming a [near-] luxury sedan.  If Lexus wants to know how to build a V6 that sounds great at full throttle, they should grab a Honda and start cutting it apart.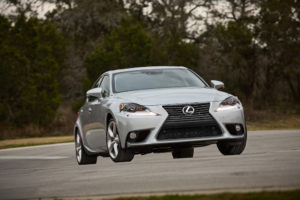 While I liked the proportions of the second-generation car, it wasn't exactly a design leader.  The new car isn't the most beautiful thing on the road, but at least it's interesting to look at.  Naturally, the car features Lexus' now-ubiquitous oversized spindle grille, but the grille fits much better with this car than with cars it's grafted onto like the LS and RX.  There are many places on the car where lines come to a point; it's different and interesting, but again, perhaps not representative of true beauty.  In some ways, the car's design appears to be trying a bit too hard, yet I'm also a sucker for some of that stuff.  I found myself turning around for one more glance at the checkmark-shaped LED running lights underneath the headlights when I parked the car in the evening after work.
Inside, the completely-conventional design and sometimes-questionable materials of the old car were ditched in favor of a more interesting design.  There are probably too many angles and too many different textures, but, like the car's exterior, at least they're trying something different and interesting.  Our test car, despite an MSRP of $47,480 including destination, had a color LCD screen, but lacked navigation, and therefore, lacked Lexus Remote Touch, the haptic feedback, mouse-like controller that has spread across the Lexus lineup the same way the spindle grille did.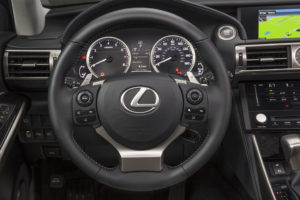 In place of the "mouse," this particular IS had a single knob instead, and it works almost exactly like Audi's MMI knob, except that it lacks the Audi's shortcut buttons.  Oh, and you turn clockwise to move down one selection rather than counterclockwise the way you do in Audis.  I also noticed that despite the screen's extremely high resolution (it was not exactly the world's first "retina" in-car navigation screen), movement among selections on the main menu screen sometimes stuttered, as if the system didn't quite have enough processing power to keep up.  Bluetooth audio and phone pairing were easy to use and worked well; the stereo sounded just OK.  This tester did not feature the optional (but very good) Mark Levinson system, nor was it an F Sport (which boasts very cool LFA-inspired adaptive TFT gauges).  Instead, it had conventional gauges, which were very easy to read, but the small information area between the speedometer and tach looked almost as cheap as the much-criticized unit in the Cadillac ATS.
Seating comfort was all right, and my butt never fell asleep during hour-long commutes.  However, the driver's seat still felt flat to me.  For my first few days with the car, I could have sworn that I adjusted the seat down to its lowest setting, and was cursing the car's lack of headroom (those damn too-small Lexus ISs again!) but upon trying to adjust the seat downward again, it did move down several inches, and my flowing locks no longer annoyingly brushed the ceiling.  There is a sizable adjustable lumbar support inside the driver's seatback that will push into your back the same way Olga, the big-boned German masseuse can do to you.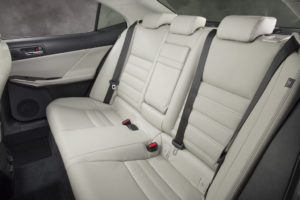 Rear-seat accommodations are much improved in the 2014 Lexus IS. Thanks to a 2.7 inch wheelbase stretch, combined front plus rear legroom is up 2.5 inches.  That may not sound like much, but it's the difference between having your knees crammed against the front seatback and allowing them to remain a comfortable distance behind the front seat.  Forget about the auto-exit front seat function, though – any goodwill your rear-seat passengers have toward you for sharing some legroom during the trip will be lost when your seat crashes into them.  I disabled that feature within my first 24 hours of driving the car.
Dynamically, the IS remains my favorite Lexus to drive (excepting the IS F and the LFA, the latter of which I've never driven, but assume is awesome).  This non-F Sport model trades some handling potential for ride comfort (and I can't believe that the car has just 17 inch wheels – fitted to 225/45-17 tires) yet its well-calibrated electric power steering, strong throttle response, and strong brakes actually made it kind of fun to sling around back roads.  In one snowy day this past week, the all wheel drive IS performed admirably, despite having all-season tires instead of snow tires.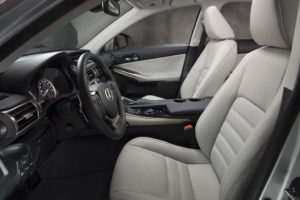 As mentioned earlier, pricing for this car was $47,480.  The base price is $41,700, and our tester had the $360 all weather package (with a much-appreciated heated steering wheel, though only about half of the rim was heated), $350 backup camera, $3,675 luxury + technology package (LED headlamps that had a too-low high beam, rain sensing wipers, leather-trimmed interior with genuine wood trim, power tilt/telescopic steering column, memory driver seat, blind spot monitor and rear cross-traffic alert), and $500 intuitive parking assist.  Destination was $895, and you have a $47,000 car.  That sounds like a lot, but it's actually cheaper than a comparably-equipped Cadillac ATS (according to our pals at TrueDelta.com), and quite a bit cheaper than a BMW 335i xDrive or Audi S4 that have a real leather interior, technology package, and cold weather package.
If you don't mind the looks of the new IS – I actually kind of like it – and you don't need a European brand (or its maintenance/reliability headaches), do yourself a favor and look into the Lexus IS.  It's a really good car and it's almost big enough for a family of four tall people.  My wife still isn't going for this one.  Maybe the fourth generation will finally be big enough for her.
Lexus provided the vehicle, insurance, and a tank of gas for this review.